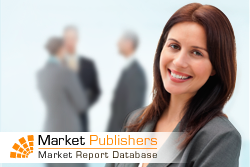 London, UK (PRWEB) February 24, 2012
Russia is one of the world's leading suppliers of gold. With its massive land expanse that covers 11 timezones, the country is considered to be the single largest unexplored gold region in the world, with large deposits only recently being discovered.
Russia's gold industry is highly fractured, with over 600 companies (half private) working in the sector. The country has increased total gold production 38% since the collapse of the Soviet Union in 1991. By 2015, Russia is predicted to increase gold production to 7.9 million ounces. The development of large gold projects held by the leaders such as Kinross Gold and Polyus Gold are projected to be the main contributor to the increase in Russia's gold production.
New market survey "Russia's Gold Industry in 2011" provided by Interfax Europe has been recently published by Market Publishers Ltd.
Report Details:
Title: Russia's Gold Industry in 2011
Published: February, 2012
Pages: 55
Price: US$ 740
http://marketpublishers.com/report/industry/metallurgy/russias_gold_industry_in_2011.html
The study offers an unbiased and comprehensive overview of major development trends of Russia's gold industry, featuring the country's gold reserves, mine, incidental, secondary gold production, output by regions and companies. Furthermore, the report examines the performance, financial results and profitability of the top gold producers, including Polyus Gold, Petropavlovsk, Kinross Gold, Polymetal, Nord Gold, Highland Gold Mining, Yuzhuralzoloto, Vysochaishy.
Reports Contents:
Russia's Gold Reserves
Russia's Gold Industry in 2011
Gold production: major trends
Gold production by regions
Top gold producers
Russia's Gold Industry: Key Financials
Sales and profitability
Comparative financials of top gold producers
Top Gold Mining Companies Operating in Russia
Polyus Gold
Polyus Gold: : overview
Polyus Gold in 2011: operations summary
Petropavlovsk
Petropavlovsk: overview
Petropavlovsk in 2011: operations summary
Kinross Gold (Russian operations)
Kinross Gold: overview
Kinross Gold in 2011: operations summary
Polymetal
Polymetal: overview
Polymetal in 2011: operations summary
NordGold (operations in Russia)
NordGold: overview
NordGold in 2011: operations summary
Yuzhuralzoloto Group of Companies
Yuzhuralzoloto Group of Companies: overview
Yuzhuralzoloto Group of Companies in 2011: operations summary
Highland Gold Mining
Highland Gold Mining: overview
Highland Gold Mining in 2011: operations summary
Vysochaishy (GV Gold)
Vysochaishy: overview
Vysochaishy in 2011: operations summary
Supplement
Profitability in sector of Materials in 2008-2010
Top gold producers: key financials and ratios to IFRS for 2008-2010
Average profitability of gold production in key Russian regions in 2008-2010.54
Market Survey
List of Tables
List of Graphs
Companies Mentioned
Polyus Gold
Petropavlovsk
Kinross Gold
Polymetal
Nord Gold
Highland Gold Mining
Yuzhuralzoloto
Vysochaishy
More new market research reports by the publisher can be found at Interfax Europe page.
###