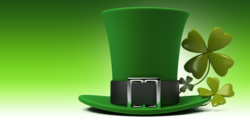 (PRWEB) February 26, 2012
St. Patrick's is a day when Irish people celebrate the bringing of Christianity to Ireland and a day when they pray and are thankful for the peace that is brought to them. On 17th of March, the official day when St. Patty's, as someone call, is celebrated, many exhibitions are organized all around the world, but especially in Dublin. The capital of Ireland is the main and central place where all the attractions and events are located like beer festivals, boat races, funfairs. On this special day, Irish people and the tourists that visit Dublin, take place in the parades and events that are hold during this and also the coming days in the week.
Besides Dublin, this special day is celebrated in whole Great Britain, United States of America and Canada. In Britain, the major attractions are hold in London, Manchester, Birmingham and Glasgow. This year it is expected that Manchester will take on the previous record with dancing nights, special exhibitions, live music events, karaoke nights, concerts of singers like Sinead O'Connor and become Europe's most visited Irish festival city with more than 200.000 visitors. In Glasgow and London, the celebration starts early in the morning in the local pubs who organize many events with one and only theme and that is the celebration of St. Patrick's Day when everyone is traditionally in green clothes and play games. On this day, all the visitors learn about the cultural heritage and history of the Irish people.
There are tours, celebrations and parades in United States and as March comes, many Broadway shows are opened which the tickets are sold in a heartbeat. In many different cities, such as Montreal and San Francisco many traditional gatherings are organized and celebrated with bear and song, but also everyone attends the parade organized in the city.
Otel.com has knowledge of the travelers' choice for St.Patrick's day activities and peoples' choices of what to see and be part of, so it provides Patrick's day hotel deals for travelers. For 2012, Otel.com arranged special 6% discount to give its subscribers for St.Patrick's day accommodations in many places in the United States of America and Canada that live the spirit of this great day. Otel.com's code is: STPATRICK2012. You can click to book now and make sure you enter the Promotion Code.
There is no reason not to explore these beautiful places during St. Patrick's Day and stay in one of the hotels that Otel.com has special Patty's discounts. More news and hotel information are available on otel.com.
###