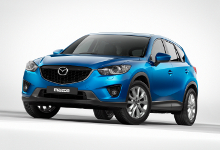 We are honoured to be one of the few chosen Mazda dealers to have the CX-5 at our showroom on the afternoon of the 10th March. The Mazda CX-5 is a truly amazing car.
Hampshire (PRWEB UK) 24 February 2012
Local motorists will soon be able to get their hands on the innovative Mazda CX-5 compact crossover SUV when it arrives at Hendy Mazda in Hampshire this spring. Customers who 'just can't wait' for this remarkable Mazda can visit the showroom on Leigh Road on the afternoon of the 10th March 2012 to view and pre-order a car that has already received critical journalist acclaim.
This new Mazda is ideal for all lifestyles and has all the comfort, safety and fun-to-drive performance expected of the Japanese car brand plus truly class-beating economy. The Mazda CX-5 compact crossover SUV model range will feature an 18-strong line-up when it goes on sale in spring, with prices starting from £21,395 and rising to £28,795 (OTR).
All-new, the Mazda CX-5 has been freshly designed from the ground up, using the application of Mazda's breakthrough SKYACTIV technology, which significantly improves the vehicle's efficiency, safety and overall performance. Built with high tensile steel, the CX-5's bodyshell is far lighter than its competitors, but its 2,700mm wheelbase ensures it is more spacious than its rivals.
The Mazda CX-5's world-beating petrol and diesel engines deliver class-leading CO2 emissions and fuel economy. The 2.2-litre SKYACTIV-D diesel engine (150ps) returns 61.4mpg on the combined cycle and emits just 119g/km of CO2. The petrol model is a 2.0-litre SKYACTIV-G engine (165ps), which offers an excellent 47.0mpg combined and only 139g/km of CO2. The CX-5 comes with Mazda's stop-start system, either two- or four-wheel-drive and the choice of six-speed manual or automatic transmissions – depending on the model.
Although focused on efficiency and economy, the Mazda CX-5 is in no way Spartan – it has plenty of equipment as standard, including a Sanyo TomTom® sat nav, an advanced safety system with automatic braking to prevent low speed collisions, lane departure warning, blind spot alerts and an automatic main beam function.
"We are honoured to be one of the few chosen Mazda dealers to have the CX-5 at our showroom on the afternoon of the 10th March. The Mazda CX-5 is a truly amazing car. While it offers some great fuel savings, it is also a strong performer and delivers incredible functionality. The interior space is second to none, with plenty of legroom in the rear seats and a very generously sized boot," commented Dan Scott, Sales Manager, Hendy Mazda.
"It may be lighter than its counterparts, but the CX-5 is certainly rigid, creating a safe environment for all occupants. The overall look is based on Mazda's 'KODO – Soul of Motion' design theme and is inspired by the beauty and power of nature, so it is guaranteed to turn heads wherever you go," added Scott.
While production of CX-5 models for the UK market is likely to be limited this year, Mazda has established a pre ordering facility that will enable customers to order a Mazda CX-5 via Hendy Mazda, allowing Eastleigh, Southampton and Winchester drivers to be among the first customers in the UK to own a vehicle featuring SKYACTIV technology.
"The benefit of pre-ordering to the customer is that they are more likely to acquire the vehicle of their choice in a shorter time frame and be among the first to receive news and details of this exciting newcomer," Scott concluded.
For more information about the Mazda CX-5 or to pre-order the new model, contact Hendy Mazda on 023 8027 1271 or visit the showroom on Leigh Road, Eastleigh on the afternoon of the 10th March 2012.
For more information about Hendy Mazda, part of the Hendy Group, contact Digital Marketing Manager Nic Jones on +44 (0) 23 80271 271
Information for Editors:
Hendy Group Ltd
Chandlers Ford Industrial Estate
School Lane
Eastleigh
Hampshire
United Kingdom
SO53 4DG
Telephone: 023 8027 1271
Fax: 023 8062 7539
Hendy Group Ltd is a premier family motor group with around 20 premises stretching across southern England from Devon to West Sussex.
Hendy holds Ford, Mazda, Kia and Honda franchises, plus Ford, and Iveco van and truck franchises. The company handles all aspects of sales, servicing, parts, hire, accident repairs and Rapid Fit. Specialist operations include engine dynamometer testing, fuel injection testing and repairs, as well as engine sales to the construction and marine industries.
Hendy was founded in 1859 and whilst having grown to a company of significant geographical and economic size, the Hendy Group remains a closely-knit family concern. Currently, both the Chairman and Deputy Chairman are great-grandsons of the company founder F.A. Hendy, with the next generation of sons and daughters within the company structure ensuring the continuity of the family business.
Throughout the company's history, the Hendy family can be said to have followed good business practice by grasping opportunities as they've appeared, and reviewed operations in order to remain efficient. Above all, the Hendy family has always been careful to continue to meet the needs of customers, ensuring that they enjoy the best service and attention at all times.
###