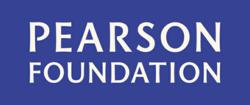 New York, NY (PRWEB) February 24, 2012
The Pearson Foundation announced today that it is now accepting applications for the 2012 Pearson Prize for Higher Education, the award that recognizes and supports undergraduate student leaders who are distinguishing themselves by leading public service efforts that give back to their local communities.
The Pearson Foundation will recognize 20 students as Pearson Prize National Fellows, providing financial assistance, access to a vast network of professionals and past award recipients, and the opportunity for training in the areas of project management, communications and technology through the TakingITGlobal Sprout E-course. The online application is now available at http://www.pearsonfoundation.org/pearsonprize. Completed applications must be received by March 16, 2012.
The Pearson Prize was specifically developed for young people who might not have discovered their direction, or engaged their real passion, until after their freshman year in college. Past Pearson Prize National Fellows have come from diverse backgrounds and have studied at institutions of higher education throughout the United States. In addition to recognizing and addressing the financial challenges that many of these students face while pursuing their academic goals, the Pearson Foundation aims to raise awareness about the important role that student leaders play on college campuses and in surrounding communities.
In 2011, 18,000 students registered for the Pearson Prize. To learn more about past awardees, visit http://pearsonfoundation.org/pearsonprize/2011/fellows.html. This year's award recipients will be notified by July 2012.
"The Pearson Prize for Higher Education brings to light the importance of community involvement and leadership," said Pearson Foundation President and CEO Mark Nieker. "Each year we are seeing an increase in applicants – we know that this award is filling a need not traditionally met by other awards. I am in awe of these students' accomplishments, and they inspire us all to do more and succeed."
The Pearson Prize is administered by the National Society of Collegiate Scholars (NSCS). The application is open to current undergraduate students enrolled at accredited four-year and two-year institutions in the U.S. who have a minimum 2.5 GPA on a 4.0 scale and at least one year remaining until graduation.
Media Contact: Stacey Finkel, Stacey(dot)finkel(at)pearsonfoundation(dot)org, 703-304-1377
About the Pearson Foundation
The Pearson Foundation, a 501(c)(3) nonprofit, extends Pearson's commitment to education by partnering with leading nonprofit, civic, and business organizations to provide financial, organizational, and publishing assistance across the globe. The foundation aims to make a difference by sponsoring innovative educational programs and extending its educational expertise to help in classrooms and in local communities. More information on the Pearson Foundation can be found at http://www.pearsonfoundation.org.
###