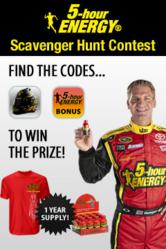 (PRWEB) February 26, 2012
The 5-hour ENERGY® team is dropping the green flag on another fan contest. It is teaming up with Clint Bowyer and Michael Waltrip Racing for the 5-hour ENERGY® Racing Scavenger Hunt Contest, launching on Sunday, Feb. 26.
Fans are invited to search online for the 15 helmet style tokens that the 5-hour ENERGY® Racing Crew has hidden. However, it's not going to be as easy as it sounds. Tokens will be strategically hidden throughout the 5-hour ENERGY® website, Facebook page, Twitter profile and the 5-hour ENERGY® Shot blog. Fans will need to keep track of each token's code word and number to fill out the Racing Scavenger Hunt Contest entry form.
Harnessing the competitive spirit of NASCAR, the 5-hour ENERGY® team decided to keep fans on their toes, so this year's scavenger hunt features additional bonus codes. New bonus codes will be released each month and hidden across Michael Waltrip Racing's website. Fans that discover these codes can enter them on a special Bonus Code entry form and increase their chances of winning!
This contest requires 5-hour ENERGY® fans to exhibit the same amount of determination and patience as NASCAR drivers. Fans will need to be resourceful and smart in order to uncover the 15 tokens and bonus codes. Fans are invited to tweet @5hourenergyguy on Twitter for clues and hints on code locations.
The scavenger hunt contest ends on Monday, Nov. 19. After finding all of the tokens and completing the form, participants will be automatically entered for a chance to win a one-year supply of 5-hour ENERGY® shots and a t-shirt signed by Clint Bowyer.
About 5-hour ENERGY®
5-hour ENERGY® is a liquid dietary supplement that provides hours of energy and alertness. It contains a blend of B-vitamins and amino acids, zero sugar and four calories. It is available at retail outlets in the United States and Canada as well as throughout the U.K, Ireland, the Netherlands and Spain.
###