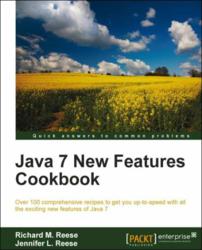 Birmingham, UK (PRWEB) February 25, 2012
Packt is pleased to announce the publication of Java 7 New Features Cookbook, a new book and eBook aimed at understanding all the new exciting features Java 7 has to offer with a very practical recipe-based approach. Written by Richard M. Reese and Jennifer L. Reese, this guide enables readers to use the new Java language improvements across a variety of tasks including monitoring directory events, as well as incorporating numerous development techniques.
Java is currently one of the most popular programming, general-purpose and object-oriented languages derived from C and C++ - particularly for client-server web applications. It is specifically designed to have as few implementation dependencies as possible.
Java 7 New Features Cookbook covers the details of using the numerous Graphical User Interface improvements including window methods, the new JLayer class and various dialog box-related methods to perform asynchronous IO in Java 7. It enables developers to manage threads using the join/fork paradigm and use new data structures.
Step-by-step instructions to utilize improved access to mouse buttons and the mouse wheel along with additional event handling support, mastering the new row set interfaces and control of the database schema and other such exciting new features are also highlighted in the book.
Chapter 1: Java Language Improvements
Chapter 2: Locating Files and Directories Using Paths
Chapter 3: Obtaining File and Directory Information
Chapter 4: Managing Files and Directories
Chapter 5: Managing File Systems
Chapter 6: Stream IO in Java 7
Chapter 7: Graphical User Interface Improvements
Chapter 8: Events Handling
Chapter 9: Database Enhancements
Chapter 10: System and Security
Chapter 11: Concurrent Processing
Chapter 12: Java 7 Odds and Ends
Packt Publishing has published many other Java titles, including:

Jboss ESB Beginner's Guide (published)
JavaFX 1.2 Application Development Cookbook(published)
Java EE 6 Development with NetBeans 7 (published)
All Java books are published by Packt Enterprise. Packt Enterprise is a publishing division of Packt Publishing designed to serve the information needs of IT Professionals in the Enterprise space. Packt Enterprise also publishes on Microsoft, IBM, Oracle, Citrix, Java, Amazon, Google and SAP technologies.
# # #