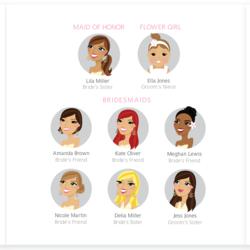 San Francisco, CA (PRWEB) February 28, 2012
PosePrints' new line of ultra-unique Wedding Ceremony Programs have been delighting brides, grooms and wedding guests worldwide since their January 2012 launch. The mother-daughter team of PosePrints.com – printing personalized caricature stationery since they launched their website in 2007 – were inspired to add Wedding Programs to their product line after the original creation dazzled wedding guests at a special 2011 wedding.
"I created the Wedding Programs for my own wedding, and our guests absolutely loved them," Jen Moss, PosePrints' Co-Founder, says. "They were able to see who each of the bridesmaids and groomsmen were during the ceremony by looking at the caricatures inside the program."
"Jen used the striped design for her wedding, but has since designed a variety of other design options," Denise Foster, Jen's mom, adds. "The programs also included caricatures of the little ring bearers and flower girl – no one had seen anything like it! It's the perfect combination of fun and sophistication."
Now offered on the PosePrints website (http://www.PosePrints.com), the Wedding Program line gives brides and grooms a high level of creative control – allowing them to customize the caricatures of their wedding ceremony participants and select the cover design, colors, fonts and wording of the program. PosePrints' Design Team works closely with the customer from the moment the Wedding Program order is placed until the final proof is approved.
PosePrints personalized Wedding Programs cost three dollars per piece, plus a flat one hundred-dollar design fee per order. The programs are tri-fold cards that measure five inches square when folded, and are printed on 110-pound, white card stock.
PosePrints.com offers an instant-order approach to their customized products. The easy-to-use website allows consumers to electronically create look-alike caricatures of themselves from a wide range of pre-drawn facial features and accessories. The customizable options include gender, skin color, hairstyle, hair color, eye size, eye color, smile size, clothing and accessories.
Wedding Programs are the newest addition to the PosePrints e-Commerce website, which already offers lines of cards, magnets, notepads and calling cards. The company is continuously adding fresh design and caricature features to their options, so brides and grooms will have no trouble finding a perfect fit for their wedding stationery.
# # #