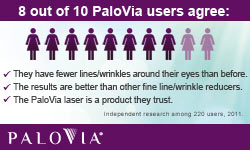 Burlington, MA (PRWEB) February 28, 2012
The PaloVia brand knows that for many customers, the PaloVia Skin Renewing Laser represents an important beauty investment. With that in mind, palovia.com has always strived to provide as much information as possible so customers can make an informed decision before purchasing a PaloVia laser. From before and after pictures to clinical studies to honest product reviews by real users of the PaloVia laser, the PaloVia brand empowers women to make a knowledgeable purchase.
To that end, Palomar has gone a step further by conducting an independent study among PaloVia laser purchasers to better understand their habits and practices with the product, as well as their overall satisfaction and likelihood of recommending the PaloVia laser to others. In total, 220 surveys were completed. Here are the top line results:
1. Customer satisfaction with the PaloVia laser is extremely high.
-- 92% of users are satisfied with the PaloVia laser
-- 88% of users plan to continue to use the product
2. Virtually all users are happy with the product experience.
-- 96% feel the instructions are easy to understand
-- 94% feel the PaloVia laser is convenient to use
-- 93% think PaloVia laser is easy to use
-- 99% are satisfied with the length of a treatment session (3-4 minutes)
3. Out of this discerning group of beauty enthusiasts, eight of 10 women agree that the PaloVia laser works better than other fine line/wrinkle reducers and is a product they trust.
4. PaloVia users are brand champions who love to share their new beauty secret.
-- 76% of users would recommend the PaloVia laser to others.
-- Of that number, 71% already have!
"We are delighted with the high levels of customer satisfaction the PaloVia brand has achieved in its first year on the market," said Joseph Caruso, Chief Executive Officer of Palomar Medical Technologies. "It's a stunning achievement for such a revolutionary new product."
About Palomar Medical Technologies
The PaloVia Skin Renewing Laser was developed by Palomar Medical Technologies, Inc., a leading manufacturer of cosmetic lasers for dermatologists and plastic surgeons.
For nearly two decades, Palomar has revolutionized laser skin treatment. In the 1990s, a global team of Palomar laser physicists and esteemed dermatologists began experimenting with non-ablative fractional laser treatments — a new technique that kept the outer layer of skin in place ("non-ablative") and treated only a small portion ("fraction") of the skin with each application of light. In 2000, Palomar filed a patent application on this fractional laser technology and began selling systems to doctors for use on their patients. In 2009, after years of clinical studies, Palomar received FDA clearance for the first at-home fractional laser clinically proven to reduce fine lines and wrinkles around the eyes.
For more information about the PaloVia laser, winner of the 2011 Allure Breakthrough Award, visit palovia.com.
PaloVia Customer Care:
1-866-PALOVIA (1-866-725-8642)
info(at)palovia(dot)com
# # #