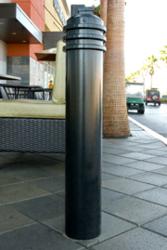 Other accessories, like chain eyes, chain links and powder-coated chain, can be used on any of these models
(PRWEB) February 24, 2012
It is a sweet thing when one great product can offer many uses by making simple adjustments. Reliance Foundry is pleased to announce that they have expanded the stylings of the model R-7576 bollard, which makes it worth considering for any project that requires security, decoration or protection.
The model R-7576 ductile iron bollard stands 34 inches in height, possessing a base diameter of 5 3/4 inches, and a sleek rounded steel top cap. Architects, designers and contractors appreciate not only the smooth, straight line of this bollard, but the three annular rings leading to the domed top, which make it stylish as well as functional.
Model R-7576 bollard helps define a restaurant outdoor patio
This model of bollard has three mounting options, putting it into contention for a wide variety of installation needs.
1) It can be installed as a decorative cover over a security pipe bollard with a maximum width of 4-1/2 inches, and a maximum height of 31 inches.
2) Using one of Reliance Foundry's optional removable bollard mounting kits, it can be installed as a locking but removable bollard for spaces that need to keep most traffic out, but may have to allow occasional access.
3) It can be installed as a permanent, fixed bollard for strictly decorative purposes into new or existing concrete.
But the versatility of the R-7576 bollard does not stop there. Now, Reliance Foundry has added different design options to the top of the bollard. These options change the look, which gives the architects and designers more to work with. To take it one step further, all of these bollards can be installed with bike parking arms, to provide secure bike parking and keep with the other function of the bollard.
Other accessories, like chain eyes, chain links and powder-coated chain, can be used on any of these models to create a barrier along paths, in front of statues, to protect pedestrians from walking into traffic and countless other solutions.
Delran High School in New Jersey recently installed the model R-7576 bollards around the perimeter of their main campus building.
As with other Reliance Foundry bollard models, the R-7576-series bollards come in 6 standard, powder-coated color options, with customization available.
Visit Reliance Foundry's bollards web site to see their entire selection of bollard products.
About Reliance Foundry Co. Ltd.
Reliance Foundry has been a family-owned business since 1927. Bollards are one of its main product lines, along with industrial wheels, bike parking products and investment castings. Reliance sources products globally and offers quick and convenient delivery in the United States and Canada from its Vancouver location.
###