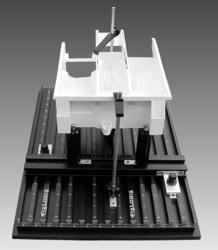 A significant number of our customers have found the FixLogix system to be very helpful. Recognizing this, we now offer the system as a recommended accessory on our GoMeasure3D website." -Darryl Motley of GoMeasure3D.
Olivet, MI (PRWEB) February 27, 2012
FixLogix LLC has introduced low cost modular fixture systems for the popular portable CMMs produced by Faro, Romer, Microscribe, Nikon and Verisurf. Modular CMM fixtures have been very popular for traditional coordinate measuring machines (CMMs) for years. In past years those modular fixtures were considered by many to be too expensive for use with portable CMMs. The new t-slot style fixture systems from FixLogix achieve a price/performance that has attracted an ever-increasing number of companies for use with their portable CMMs as well. To facilitate this, FixLogix now offers mounting rings for portable arms with a hole-pattern that allows the arm to be mounted directly onto their t-slot fixture plate. The plate and arm may then be mounted to a rolling cart to create a portable inspection unit.
FixLogix utilizes modern extruded T-slot technology to produce a line of fabricated fixture plates and component kits for modular part holding fixture applications. By adopting this technology, FixLogix was able to invent a modular fixture system that costs less than ½ that of legacy systems. The infinite adjustability of the t-slot system has also proven to be much more user friendly for operators trying to build a part holding fixture, without interfering with datums and part features that need to be interrogated by the measuring machine. Simple fixtures with 3-2-1 locating structures are easily developed with the t-slot fixture kit.
The FixLogix modular fixture can enhance the advantages of portable inspection devices by quickly providing a stable part holding solution that reduces inspection process errors caused by part motion during the inspection, or part distortion from faulty clamping and locating schemes.
In many cases inspection throughput is also dramatically improved, as inspectors often spend an inordinate amount of time just trying to find a way to properly hold a part for inspection, with inadequate tooling. The modular fixture system solves this dilemma.
The use of new laser scanning sensors with portable CMMs has seen dramatic increase as new sensors and software have made this new technology more accessible and use friendly. FixLogix produces a line of unique self-wedging "soft locators" and clamps designed for flexible parts and non-contact inspection applications. This new class of locators and clamps is particularly useful for reverse engineering and non-contact inspection applications of flexible and thin-walled parts.
The FixLogix component kit utilizes ¼-20 or M6 threaded components, and is cross-compatible with many other brands of fixture systems, and is also cross-compatible with the FixLogix fixture systems for vision systems and optical comparators. The much lower cost point of the system allows for effective implementation in a variety of other coordinate metrology applications. The fixtures are even finding use in laser marking systems for medical parts and other applications requiring precise part location. The system is available in English or Metric versions.
FixLogix LLC was formed in 2007 to produce and sell modular fixture systems for metrology, and other light duty part-holding applications. The company produces modular fixture systems for CMMs, vision systems, optical comparators, and laser scanners. The company maintains an E-commerce website, and takes most major credit cards.
###