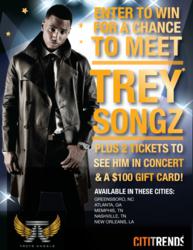 Savannah, GA (PRWEB) February 24, 2012
Citi Trends, the leading value-priced retailer in the U.S. for urban fashion apparel and other top brands and accessories for the entire family is offering an amazing opportunity in select markets for Trey Songz fans to win a pair of concert tickets to his "Anticipation 2our" along with a special meet and greet backstage visit and a $100 Citi Trends gift card.
For register to win details, visit Citi Trends stores starting February 24, 2012-March 2nd in Atlanta, GA and Greensboro, NC and February 24-March 7, 2012 in New Orleans, LA, Memphis, TN and Nashville, TN. The register to win will only be available in these cities.
Trey's Angels fashion will be sold exclusively at select Citi Trends stores starting February 24, 2012. Not only can you wear the new Trey Songz fashion but you may have the opportunity to win a pair of VIP concert tickets and personally meet Trey Songz.
Trey Songz Anticipation 2our with special guest Big Sean tour dates include:
Greensboro Coliseum Complex in Greensboro, NC on March 4, 2012
Fox Theatre in Atlanta, GA on March 8, 2012
Lakefront Arena in New Orleans, LA on March 9, 2012
De Soto Civic Center in Memphis, TN on March 10, 2012
Municipal Auditorium in Nashville, TN on March 11, 2012
Visit Citi Trends in the above cities mentioned for your chance to win and be sure to get your Trey's Angels fashion starting February 24, 2012 before it's sold out. For more information on Citi Trends, visit http://www.facebook.com/CitiTrends.
ABOUT TREY SONGZ
Trey Songz is a Grammy Award nominated and multi award winning R&B artist, songwriter, record producer and actor. His debut album, "I Gotta Make It", was released in 2005, followed by "Trey Day", released in 2007 and his third album, "Ready," was released in 2009. His fourth studio album, "Passion, Plain, & Pleasure", released on September 14, 2010 was Songz's follow up to the RIAA gold certified smash, "Ready." From "Bottoms Up" featuring Nicki Minaj to the chart-topping, record breaking #1 Hip Hop and R&B single, "Can't Be Friends," "Passion, Pain, Pleasure" laid the groundwork for Songz's highly anticipated new CD "Chapter V." Major awards were garnered from a Grammy nomination for Best Contemporary R&B Album to winning the 2010 BET Award for Best Male R&B artist. More success followed that year for Songz, from touring as both headliner and special guest on Jay-Z's massive "BP3 Tour 2010," numerous TV appearances, and star studded recording sessions including with Lionel Richie and Quincy Jones' new version of "We Are The World," benefiting Haitian earthquake relief organizations. This was documented in Songz's hugely popular docu-series, "My Moment." The 10-part BET documentary TV hit sensation provided an exclusive window into Songz's life and career, chronicling everything up to and including the making of the new album. Songz also had a life changing experience when he had a personal meeting with President Barack Obama. Songz is also a philanthropist, in which he founded the Songz For Peace Foundation to help curb youth violence by spreading a positive message for young people. Trey Songz has a community fan club site called Trey's Angels that is a destination for all things about the artist with exclusive access to news, tour updates, limited edition merchandise, and much more. For more information on Trey Songz, visit http://www.treysongz.com, http://www.treysangels.com, http://www.twitter.com/treysongz and http://www.facebook.com/treysongz.
ABOUT CITI TRENDS
Citi Trends, Inc., is the go-to value-priced retailer of urban fashion apparel and accessories for the entire family. The company operates 512 stores located in 29 states. The company headquarters are located at 104 Coleman Blvd, Savannah, GA, 31408. For more information on Citi Trends, visit http://www.cititrends.com and Facebook via http://www.facebook.com/CitiTrends.
For more information, contact Tamara York of Tamara York Public Relations, email: tamara(at)tamarayorkpr(dot)com.
# # #