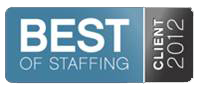 At ettain group, we stand proud that our clients utilize our services by an average of almost 300% more than they did just 36 months ago. This recent recognition...reinforces our position as a trusted partner of choice for our clients' staffing needs.
Charlotte, NC (PRWEB) February 27, 2012
ettain group announced today that it has been named to Inavero's 2012 Best of Staffing™ Client list. Best of Staffing, presented in partnership with CareerBuilder, is the nation's only award that recognizes staffing firms that receive remarkable reviews from their clients. Fewer than 1% of North American staffing firms have been named to the 2012 Best of Staffing Client List.
Staffing firms competing to make the Best of Staffing list underwent a rigorous client survey process followed by careful analysis of responses to determine satisfaction levels. ettain group received satisfaction ratings of 9 or 10 out of 10 from 79 percent of their clients, significantly higher than the industry's average of 30 percent. ettain group won a place on this prestigious list by earning an average Net Promoter Score that was nearly double the national staffing industry benchmark for client satisfaction.
"Less than 1% of staffing firms in the nation have been named to the Best of Staffing List for Client Satisfaction," ettain group's Founding Partner and CEO, Jeff Harris said. "ettain group has always been sharply focused on delivering the highest quality talent more consistently than any of our industry peers. We stand proud that our clients utilize our services by an average of almost 300% more than they did just 36 months ago. This recent recognition by our clients reinforces our position as a trusted partner of choice for our clients' staffing needs."
"The staffing industry continues to play a key role in helping to revitalize the economy," said Eric Gregg, Inavero's Founder and CEO. "Staffing firms give growth-minded organizations a more flexible alternative to recruiting their own employees, letting both the employee and employer determine if the fit is right for a more permanent position. Both sides receive tremendous value in a flexible, yet meaningful working relationship, and as they engage with staffing firms to help achieve those goals, the service experience they have is very important to their success. The Best of Staffing list is a resource for businesses and talent who are trying to find staffing firms that provide exceptional service."
In September 2011, ettain group received National Recognition when the company received the Best of Staffing Award for Talent satisfaction. This designation was earned for ettain group's excellence in quality and customer service to contract employees and consultants.
Being named to the Best of Staffing List for both Client and Talent satisfaction is simply one more confirmation of the commitment to quality and customer service that clients and contract employees have experienced for over 16 years at ettain group.
To learn more about ettain group visit http://www.ettaingroup.com.
About ettain group
ettain group, Inc., headquartered in Charlotte, North Carolina, is a privately-held, award-winning staffing and consulting company that delivers top talent and solutions to accelerate customer success.
With offices in Atlanta, Charlotte, Dallas, Jacksonville, Nashville, Raleigh, Washington D.C. and Winston-Salem, ettain group has experienced professionals across North America who provide unique information technology experience in healthcare, financial services, retail and emerging industries.
ettain group is a trusted partner that provides access to talent, expertise and methodology - with a custom feel. Experienced project leadership teams, a RAPID™ qualification process and quality assurance methodology unite to deliver solutions that accelerate success.
From discovery to execution, ettain group helps design, develop and deliver critical technology and business initiatives for a broad range of clients. Whether ettain group is providing individual contract resources, deploying and managing a project team or delivering a technology solution, a sharp focus remains on what success means for each client. With more than 16 years of experience, ettain delivers the best technology, people and solutions in the industry. An unwavering emphasis on quality and customer service positions ettain group to exceed expectations and help clients reach goals faster, smarter and with more flexibility.
About Inavero, Inc.
Inavero designs and manages satisfaction surveys for a global list of staffing and recruiting firms in more than 15 countries. Inavero's proprietary technology platform gathers and reports staffing firm client and talent satisfaction information through online surveys. Inavero's team analyzes satisfaction feedback from more than 500,000 staffing firm clients and talent each year, and serves at the American Staffing Association's exclusive research partner.
For more information contact Inavero at (800) 921-2640 or email bestofstaffing(at)inavero(dot)com.
http://www.inavero.com | http://www.bestofstaffing.com.
Net Promoter, Net Promoter Score, and NPS are trademarks of Satmetrix Systems, Inc., Bain & Company, Inc., and Fred Reichheld
###