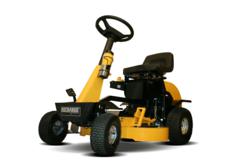 The Recharge Mower G2 cuts up to 2 acres on a single charge without a drop of gas
Carson, CA (PRWEB) February 28, 2012
The NEW Cordless Recharge Mower G2 riding mower saves hundreds of dollars each year versus gas units. The Recharge Mower G2, from Driven by Solar, also requires No Gas, No Oil and produces No Emissions. There is No Scheduled maintenance and manicuring your lawn is simple and easy.
"The Cordless Recharge Mower G2 saves you money", says company President Allan Hechtman. " The Recharge Mower G2 cuts up to 2 acres on a single charge without a drop of gas".
The Recharge Mower G2 is an electric rechargeable riding mower that cuts up to 2 acres on a single charge. The G2 is designed to deliver uncompromising performance. The 36v85Ah system powers the heavy duty drive motor and the dual direct drive cutting blades.
With a turning radius of less than 20", the G2 can be easily maneuvered around trees or along flower beds. The heavy gauge all steel deck is 30" wide and easily adjusts to 7 selectable cutting heights ranging from about 2" to just under 5". The 2 cutting blades easily slice through virtually any type of grass and with your choice of side discharge or mulching the Recharge Mower G2 produces the most environmentally friendly results for your lawn.
There is a long list of advantages of using the Recharge Mower G2. From plugging in to charge rather than the filling with gas or oil. Or mowing at any time without waking the kids or disturbing the neighborhood. The Recharge Mower G2 is certainly a positive addition to any home.
The Recharge Mower G2 is gaining placement throughout North America. Ordering and delivery is easy through a host of online partners including Amazon.com, Home Depot.com, Mowers Direct.com and Sears.com with more partners being added.
For product details and information videos, visit http://www.RechargeMower.com or any of the online retail partners.
Driven By Solar Inc., the company behind the Recharge Mower and Recharge Tools brands and registered trademarks, was established in early 2008. The company is focused on developing, producing and marketing a growing selection of environmentally friendly lawn and garden tools. The company can be reached at Info(at)rechargemower(dot)com or by calling 905-997-9300. The company credo… "A greener lawn. A greener planet." remains well entrenched.
###