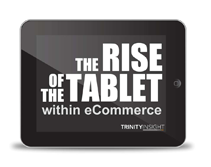 Philadelphia, PA (PRWEB) February 27, 2012
As user adoption of tablets as computing devices increases, the need for eCommerce retailers to design their sites to maximize this channel becomes more apparent. With numerous differences between standard PC interfaces and tablets, focus must be placed on cross-functional designs that are agnostic to user devices.
"The Rise of the Tablet within eCommerce" written by Nate Ende, VP of eCommerce at Trinity Insight, provides an in-depth analysis into usability and navigational issues within eCommerce websites that render on tablet devices. The paper explores this topic by isolating potential issues that a webstore may face - while providing a clear gameplan for a retailer to limit these issues within future website releases.
Trinity Insight is a leading eCommerce consulting agency with offices in Philadelphia PA and Rochester MN.
###