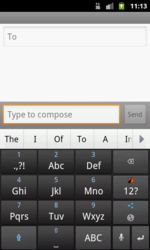 Go retro this spring!
Glasgow, UK (PRWEB) February 26, 2012
Glasgow-based KeyPoint Technologies, a pioneer in text input solutions, has developed Adaptxt by combining principles of linguistics and artificial intelligence. Adaptxt assists users with word suggestions and error corrections during text entry on mobile devices. It is available in over 50 different languages and dynamically adapts to each user's writing style by learning new words and contexts in which different words are used.
Following the recent success of the Adaptxt Beta on the Android Market, with over 100,000 cumulative downloads, KeyPoint Technologies is releasing version 0.7.2 of the Beta,

New compact keyboard layout
The new clutter-free phone keypad layout combined with Adaptxt's intelligent prediction engine makes text input very convenient on devices with small touch screens where a full QWERTY virtual keyboard cannot be properly accommodated. This layout supports text entry in both predictive and multi-tap modes and presents a familiar interface for first-time smartphone users accustomed to phone keypads with 12 keys. Users can easily switch between this layout and the classic full keyboard layout.
New, appealing keyboard themes have been added to allow users to customize their experience further.
Improved error correction
This new version of Adaptxt is powered with an improved error correction mechanism, which enables users to type even faster and with more precision.
A tutorial section has been added to help users familiarize themselves with the basics of Adaptxt.
Popular features from previous Adaptxt versions are also present in this new release, such as word completion and next word prediction; social network integration to enable posting messages directly from the Adaptxt keyboard; learning feature to memorize words and writing patterns from personal messages and social content.
Adaptxt boasts extensive language coverage, with over 50 language dictionaries, including major Western, Middle Eastern and Indian languages. It also offers over 30 industry-specific dictionaries capable of providing word suggestions on Finance, Medicine, IT, Legal and Business domains in several languages.
Downloading Adaptxt
Adaptxt 0.7.2 is being officially launched during the Mobile World Congress, in Barcelona, Spain from 27 February to 01 March 2012. The application and its add-on dictionaries are available to download completely free for a limited period from the Android Market, Amazon Appstore and GetJar.
About Key Point Technologies
KeyPoint Technologies (KPT) is a pioneer in text input technology for mobile devices, passionate about combining linguistics and computing technologies to deliver new experiences for consumers. KPT enables OEMs, operators and developers to increase quality and effectiveness of their text input engine, predictions, error corrections and input interfaces across a wide range of platforms and connected devices, while lowering the cost of doing so. KPT is a true innovator that has always believed in Technology for the Community by the Community and has therefore joined the Linux Foundation and founded OpenAdaptxt ™, the first open source text input platform, in May 2011.
###