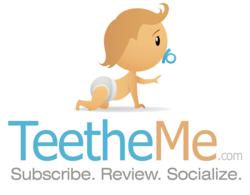 We are so excited for TeetheMe to be a part of the Oscars. We can't wait to "Teethe" the trend-setting moms and dads of Hollywood
Tampa, Florida (PRWEB) February 24, 2012
When the hottest movie stars and TV personalities line up to get a glimpse of the coolest baby gear at The Boom Boom Room's Pre Oscar Celebrity Suite, TeetheMe.com will be front and center. The multifaceted site was exclusively selected to be among high-quality brands gifted to Hollywood's A-list moms and dads.
In addition to celebrity moms and dads, The Boom Boom Room brings top editors, stylists and media outlets such as Entertainment Tonight, The Insider and Extra face-to-face with the chicest toddler and baby products on the market.
"We are so excited for TeetheMe to be a part of the Oscars. We can't wait to "Teethe" the trend-setting moms and dads of Hollywood," said Akemi Williams, founder of TeetheMe.com.
To celebrate their launch, TeethMe is offering a friends and family discount now through Sunday, February 26th at midnight with the promo code OSCARS12 where shoppers can save 20% off their orders.
The Boom Boom Room is considered to be a premier marketing gifting suite. In her seventh year organizing the event, Jayneoni Moore, the Glamour Guru of Hollywood, has been credited for turning participating products into celebrity favorites and media sensations. The Pre Oscar Boom Boom Room will be open Friday, February 24th and 25th 2012 at the exclusive W Hotel in Hollywood, California.
About TeetheMe.com:
TeetheMe.com is a one-of-a-kind interactive monthly subscription service for parents of children aged newborn-3. For $24 a month, members receive 4-5 products in a signature Teetheme box. All products are handpicked by savvy mothers and are guaranteed to be the most innovative, unique and practical baby goods on the market today.
In addition to receiving a fabulous box of products, members may rate, review and share product experiences as members of the Teetheme community. The organization's goal is to give parents invaluable product information in order to make timesaving buying decisions for their children. In the site's Diaper Bin, a convenient one-stop newsroom, readers can escape to their favorite mom blogs or catch up on the latest parenting trends. The site's blog, The Daily Drool, debuted this week.
Coming in April will be the launch of an exclusive social network, The Teethers. Members will be able to create profiles featuring their children while also making priceless parent-to-parent connections - all within a safe and secure network.
For more information on TeetheMe.com, visit the official website at http://www.TeetheMe.com.
###