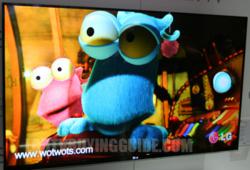 Included with the 47LS5700 is LG's innovative Magic Remote, also called the Magic Wand Remote.
Atlanta, GA (PRWEB) February 27, 2012
LCDTVBUYINGGUIDE.COM reviewers Jack Burden and Robert Wiley and editors have written articles, reviews and commentary on several LG LED Television models that were not due to enter the North American market until March 2012. "We were surprised by how many new models LG already has shipping. It could be due to the low number of 3D TV models LG ended up with in the latter half of 2011. They probably want to make sure they have plenty of new models hitting the market in 2012 to keep up with Samsung, Panasonic, and Toshiba. " states Wiley. LCDTVBUYINGGUIDE.COM has a dedicated page to all LG LED TVs 2012 Model listings. Some of the new LED backlit LCD TV models listed that are already in the market for sale are the LG 55LMG620 Review for which the company's reviewers list the following strengths:
"The Magic Wand Remote is Fun and Intuitive
120Hz Trumotion with live sports or gaming
Solid Smart TV Internet Suite
Color are natural and deep
Deep, rich, Black banding around screen with cropped movies and film
Powerful Edge Lit LED lighting for bright rooms
3D viewing easy and enjoyable"
According to the company there is also a 47" in the same series which is reviewed in the LG 47LMG620. Pricing ranges for these models is also listed on the company's site.
Another model series the article noted as newly entered into the U.S. is the LM6200 series for which the LG 55LM6200 Review states, "The 55LM6200 differs from the LM6700 series in one respect, it doesn't have the new, ultra-thin bezel design. It is a 1080p, 120Hz LED edge lit LCD panel with Cinema 3D passive 3D and all the Smart TV features of the step up model. If the features interest you but you would like to sacrifice some aesthetics for a lower price then the 55LM6200 will definitely be of interest to you." According to CEAG the series also comes in a 32", 42, 47, and 65" sizes with moderate pricing.
Another early entry into the North American market in late February is the LG 47LS5700 Review for which reviewers comment: "Included with the 47LS5700 is LG's innovative Magic Remote, also called the Magic Wand Remote. This secondary remotes operates using motion control. To interact with your TV you point the remote at the screen and move a crosshair with you wrist to select items on the menus or in the Smart TV suite. We think it's a fantastic little gadget and are glad to see it being included in more of LG's series in 2012."
Lastly, the CEAG editors noted a lower cost traditional LCD TV series that has already hit the market in 2012 in the LG 42CS560 Review and Prices from which they comment, "LG's LCD televisions have had good picture quality for the last few years and it gets better with the 2012 models. The CS560 has good contrast and black levels and color quality is realistic and rich. You probably wouldn't expect a picture this good in a value priced model."
About CEAG Inc.
Consumer Electronics Advisory Group Inc. operates several premier buying guide websites, including plasmatvbuyingguide.com, lcdtvbuyingguide.com, and 3d-tvbuyingguide.com among others. Online since 1999, the company provides objective and thoroughly researched information through professional reviews performed by seasoned reviewers. Editors Robert Wiley and Jack Burden have been reviewing televisions since the first commercial plasma TVs hit the market in year 2000. ISF calibrator John Wirtz has been calibrating televisions professionally for 10 years. The company adheres to strict testing guidelines using the highest caliber equipment. Company web sites have more than 15 million unique visitors each year in the fast growth consumer electronics industry.
###