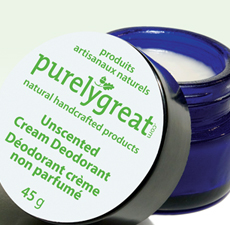 I took 10 of the deodorants back with me and shared with friends and the Husband. The reports from all have been great and for me a dream.
Toronto, Ontario (PRWEB) February 28, 2012
Purelygreat Natural handcrafted products is a new company that manufactures a line of natural deodorants for men, women and teens. This natural deodorant is an eco friendly cream deodorant packaged in glass jars, more information is available through the website at: http://www.mynaturaldeodorant.com. Purelygreat has been manufacturing and selling all natural deodorants online and at several niche retail locations in and around Toronto, Canada since 2011, details about each of the products can be found at: http://www.mynaturaldeodorant.com/products.
As a Reflexologist involved in the healing arts, Debbie Cohen was always looking for natural products to use with family, friends and clients. She stumbled upon a natural deodorant at a local community fair that smelled divine and really worked. She became intrigued with this product and overtime came up with her own recipe and style of all natural cream deodorants. Purelygreat now has a lineup of 7 natural deodorant products - two mens, two womens, teen girls, teen boys and unscented. Purelygreat takes pride in making a safe and effective natural deodorant for the whole family. One happy customer wrote "I was visiting Toronto and my Girlfriend gave me a Jar of the Citrus cream deodorant to try. It was amazing. I walked around Canada's wonderland, in the heat for 8 hours with 5 children and didn't even break a sweat..... This truly was a first, a total miracle...lol.... from that moment I was hooked. I live in Panama City, Panama where the sun is always shining and the temperature is never below 90 degree's. I took 10 of the deodorants back with me and shared with friends and the Husband. The reports from all have been great and for me a dream. Thanks to Deb for making such an amazing natural deodorant that smells beautiful and works like a charm!"
Founded in 2011, Purelygreat's mission is to provide safe and effective natural products for all ages. Purelygreat manufactures natural deodorants and is committed to providing a healthy, vegan and natural product. Purelygreat is a private company and it's headquarters are in Toronto, Ontario, Canada
###