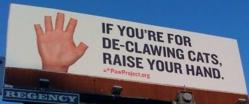 Declawing cats and debarking dogs is inhumane and unnecessary
Los Angeles, CA (PRWEB) February 26, 2012
State Senator Fran Pavley (D-Agoura Hills) introduced Senate Bill 1229, a bill to help protect the pets of people who are potential renters. This bill would prohibit a landlord from advertising or establishing rental policies requiring an animal to be declawed or devocalized.
There is an increasing trend of some landlords conditioning occupancy of rental housing on the declawing of cats and, or the devocalizing of dogs. "There are a number of steps landlords can take to protect their properties from damage by pets. Pressuring pet owners to subject their pets to inhumane and permanently damaging procedures is unnecessary, expensive and just plain wrong," said Senator Pavley.
SB 1229 would impose a civil penalty of $1,000 per animal for every violation that results in declawing or devocalization.
Eight local governments in California have recently banned the practice of cat declawing (Berkeley, Beverly Hills, Burbank, Culver City, Los Angeles, San Francisco, Santa Monica, West Hollywood), recognizing the practice as inhumane.
Declawing is an operation to remove or to prevent the normal function of an animal's claws or toes.  The practice of declawing has been prohibited in other countries, including Australia, Brazil, Finland, Estonia, the Netherlands, Norway, Malta, Germany, Sweden, Switzerland, Austria, the United Kingdom and Israel.
Alternatives to declawing or debarking for landlords may include:  language in contracts making tenants liable for pet-related damage; require that tenants supply their cats with scratch posts, require an additional refundable security deposit or "pet deposit;" provide scratching posts to tenants with cats, select fabrics that are less likely to appeal to cats for furnished apartments. 
Mary Cummins President of Animal Advocates in Los Angeles said "Declawing and devocalizing pets is unnecessary and inhumane. Cats can be easily trained to use a scratching post. Dogs can be trained not to bark. Declawed cats are more likely to stop using their litter box or may become biters. Devocalized dogs will learn to make a new sound which can be worse than barking. These new undesired behaviors sometimes cause the pet owners to dump the pet at the shelter only to be euthanized. Animal Advocates would like to thank Senator Pavley, The Paw Project and the Humane Society Veterinary Medical Association for introducing this bill."
Animal Advocates is a non-profit animal rescue and education organization located in Los Angeles.
Mary Cummins is a real estate appraiser and past broker, property manager and landlord with over 28 years of experience at Cummins Real Estate Services.
The Paw Project is a non-profit organization that educates the public about the truth about cat declaw surgery. Dr. Jennifer Conrad of the Paw Project also surgically repairs the paws of declawed big cats so they can walk again without pain.
###