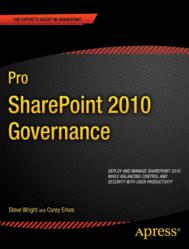 New York, NY (PRWEB) February 27, 2012
Pro SharePoint 2010 Governance is the first book on the market to give an in-depth look at pairing SharePoint and a company's intranet, extranet, or internet environment to gain the most from business capabilities. SharePoint specialists, Steve Wright and Corey Erkes, have teamed up to expose the potential of SharePoint while still maintaining security over a company's information. SharePoint, a $2 billion/year business according to Aiim.org, has continually expanded, and with that widespread adoption comes a larger responsibility to control the content. Wright and Erkes's latest book shows how to do just that.
Pro Sharepoint 2010 Governance serves as a comprehensive guide that touches on concepts as simple as, "What is governance," to fully implementing governance for SharePoint sites. This step-by-step resource provides a detailed and flexible solution that will increase productivity and be easily applied to existing processes. The goal of these strategies is to give executives the tools they need to to lead their organizations toward a productive, secure collaboration or publishing environment with excellent return-on-investment (ROI) potential.
SharePoint content is built like social media platforms such as Facebook or Youtube and therefore these processes are needed to keep business goals streamlined. The book caters to intermediate to advanced IT professional or executive users who are accountable for a company's usage of SharePoint.
Pro SharePoint 2010 Governance was formerly offered under Apress' cutting edge Alpha Program during the development process, which allowed users to read chapters from the book as Wright and Erkes wrote them.
To learn more about Pro Sharepoint 2010 Governance, visit http://www.apress.com/9781430240778.
Pro Sharepoint 2010 Governance

ISBN13: 978-1-4302-4077-8
325 Pages
Publication Date: February 24, 2012
Available eBook Formats: EPUB, MOBI, PDF
Print book: $49.99
eBook: $34.99
About the Authors
Steve Wright is a senior manager and SharePoint solution lead for Sogeti USA in Omaha, Nebraska. For more than 20 years, Steve has worked on air traffic control, financial, insurance, and a multitude of other types of systems. He enjoys writing and speaking at user group meetings and MSDN events, and holds more than 45 Microsoft certifications. For the past several years, he has focused on building highly customized SharePoint solutions.
Corey Erkes is a senior consultant for Sogeti USA in Omaha, Nebraska. Corey has worked with a wide range of companies at different points in the life cycles of their SharePoint implementations. He is passionate about SharePoint and loves working with companies to maximize the out-of-the-box features to bring immediate return on investment to organizations. In addition to his work as a consultant, Corey is also one of the founding members of the Omaha SharePoint Users Group.
About Apress Media
Apress Media LLC is a technical and business publisher devoted to meeting the needs of IT professionals, software developers, programmers, and business leaders with more than 1,000 books in print and electronic formats. Apress provides high-quality, no-fluff content that helps serious technology professionals build a comprehensive pathway to career success. For more information about the innovative approach Apress takes to publishing, please visit http://www.apress.com.
###