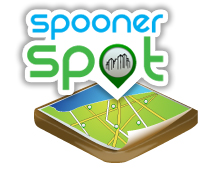 SpoonerSpot is a new way for users to interact with friends, places and events from their past and that they still have yet to find
Las Vegas, NV (PRWEB) February 24, 2012
The team at CitySpoon Inc., the parent company of CitySpoon.com, the successful online coupon and events promotion website, has been working hard on the development of a new Social Networking project known as SpoonerSpot. The social networking project, which combines a variety of ideas including mapping, location sharing and public discussions, has been in development for some time now and is preparing to wrap up its initial private testing phase. The next step for the company is an invitation beta phase, where a select group of users will be able to take the site out "for a spin" and start sharing information, and the company is rapidly preparing for the beginning of this at the beginning of March.
SpoonerSpot brings together several different web based concepts into a fun and interactive experience that lets Spooners (SpoonerSpot users) share their world with the rest of the SpoonerSpot community. This system is powered by an interactive geographic layout that presents a significant level of familiarity for first time users, allowing newcomers to instantly jump into the action. The system is simple, allowing users to literally click on any place in the world, write a quick note or upload some form of media, and instantly that Spot is visible to that Spooner's entire following. Spooners can interact with each Spot as well, engaging in discussions and sharing their own Spots throughout the site.
The concept for SpoonerSpot was developed while CitySpoon Inc. was attempting to develop a more interactive method of displaying information about the vendors using the company's flagship project, CitySpoon.com. While learning more about what users wanted from an interactive map the notion that sharing information geographically holds great appeal for Internet users began to be apparent to the CitySpoon team. Further research and development eventually lead to the team's desire to build a full-fledged project that lets users share information about their world, and this ultimately lead into the successful development of SpoonerSpot.
Now, as the company wraps up its first round of successful testing, SpoonerSpot is preparing to enter an invitational beta testing phase, bringing SpoonerSpot even closer to reaching the world. "SpoonerSpot is a new way for users to interact with friends, places and events from their past and that they still have yet to find," said Kevin Brooks, CitySpoon's VP of Operations. The site is geared towards documenting old memories and learning about new places and experiences, demonstrating the profound nature of Brooks' feelings on the project.
SpoonerSpot is entering its next testing phase at the beginning of March, and thus far has not announced who will be able to be a part of this beta testing. Users on the company's social media channels have already expressed significant interest in joining this early stage of SpoonerSpot, and CitySpoon's goal has always been to please the loyal users who interact with the company. More information will be revealed soon on how to be a part of the next phase of testing, and CitySpoon encourages any interested parties to stay in touch with CitySpoon and SpoonerSpot on Facebook, Twitter and of course SpoonerSpot.com.
About CitySpoon Inc.:
CitySpoon Inc. launched CitySpoon.com in the Summer of 2011. The site serves as a local guide for living bigger, better, and smarter by providing in-the-know recommendations, candid user reviews and expert advice for businesses and events in CitySpoon communities.
CitySpoon was created as a multi-platform resource for people to save money and help businesses grow. The site offers discounts on national products consumers already know and love while providing local businesses with an affordable avenue to market their current promotions. CitySpoon members are enthusiastic about life and the driving force behind the company.
CitySpoon has refocused its efforts to develop SpoonerSpot.com, a new Social Networking platform that uses an interactive map to display user information. This new endeavor is currently under development and holds great promise for CitySpoon Inc.
For more information please visit http://www.cityspoon.com.
Follow SpoonerSpot on Twitter:@SpoonerSpot
"Like" SpoonerSpot on Facebook: facebook.com/SpoonerSpot
###