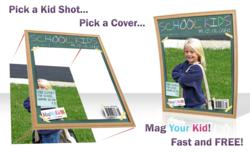 In this age of digital cameras and smart phones, we often forget how precious a single memory can be
Palm Beach, Florida (PRWEB) February 26, 2012
With over 19 Million faux magazine covers created to date Magazine Creations, the company behind the wildly successful MagMyPic.com, announced today the launch of MagMyKidz.com. The unique MagMyKidz.com website, specially designed for Parents and Grandparents, allows users to create a unique and personalized faux magazine cover featuring a digital image of their child — which can then be instantly downloaded, shared via Social Media and now even printed, framed and shipped.
Peter Rosenbaum, inventor and operator of the MagMyPic network of sites had this to say about the launch of MagMyKidz.com, "As parents and grandparents my wife and I always enjoyed capturing memories and making our children and now grandchildren feel good about their accomplishments. With that thought in mind I asked our development team to make a version of MagMyPic.com specifically focused on kids. We've created a very simple tool where even novice internet users can create unique and fun faux magazine covers of the special children in their lives; without costing a penny."
The process is simple. A user merely needs a digital image on their computer to start; once the image is uploaded, select from a wide variety of pre-made faux covers, click once and within seconds the website will produce a High Resolution Quality, ready to print, faux magazine cover which can be shared with friends and family worldwide through integration with popular social media sites including Facebook, Twitter, MySpace and more.
Magazine Creations recently added a feature to order high quality, gloss, framed 6"x8" prints of each custom faux magazine cover for only $2.65 USD, which includes shipping and handling within the continental United States.
"In this age of digital cameras and smart phones, we often forget how precious a single memory can be", continued Rosenbaum. "It used to be photos were printed and placed in albums to be shared for generations — we wanted to create memories again and found a cost effective way to print a high quality 6"x8" photo, frame and ship it for fewer than 3 dollars. Memories are priceless… MagMyKidz.com offers memories for everyone's childhood; affordable to everyone – even on a fixed income."
For more information or to create a customized Faux Magazine visit http://www.MagMyKidz.com
** SPECIAL MEDIA ONLY OFFER **
For a limited time Magazine Creations is offering accredited media and established bloggers the opportunity to receive and evaluate the quality of a printed and framed 6″x8″ faux magazine at no cost. Follow the same procedure for creating a custom faux cover and ordering a printed and framed version on either MagMyPic.com or MagMyKidz.com and place the coupon code MEDPREF on the checkout page. This is a limited offer time and quantity offer.
###