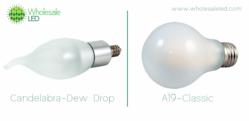 "Wholesale LED makes it simple for resellers to get low prices on volume orders, without having to sign up for a wholesalers program or call for special pricing."
Los Angeles, CA (PRWEB) February 29, 2012
Los Angeles – Now, there is a new website dedicated exclusively to electrical distributors, contractors and dealers: WholesaleLED.com enables these firms to offer lower prices than big-box retailers and consumer e-commerce sites that enables these wholesalers to compete in the LED lighting market.
In recent years, big-box retailers and e-commerce companies have presented a challenge for independent wholesalers and electrical distributors. Larger retailers were able to get volume discounts, which, until the arrival of WholesaleLED, were unavailable to smaller dealers. Now, due to its direct relationship with its factory partners, WholesaleLED provides access to in-stock products, at very low prices, which will allow resellers to get a high profit margin and still beat the prices of big-box retailers.
"Wholesale LED makes it simple for resellers to get low prices and immediate delivery on volume orders, without having to sign up for a wholesalers program or call for special pricing," says Era Tadevosian, the VP of sales for WholesaleLED.com.
WholesaleLED.com now features deeply discounted multi-packs that allow wholesalers to purchase large or small quantities of products easily, without having to call for special pricing.
"We currently offer unique products that are in high demand by resellers and designers," says Tadevosian. These include:

A five-watt LED candelabra that is as bright as 40-watt incandescent bulb,
Ultra-high brightness PAR series (greater than 1600 lumens)
LED high-bay lights used in industrial and commercial locations
A series of A19 pear-shaped bulbs that look identical to classic incandescent bulbs, by eliminating unsightly metallic "fins" offered, yet uses only a fraction of the electricity because they utilize LED's as their light source.
To learn more about the Wholesale LEDs now on sale, you can visit http://www.wholesaleLED.com.
###