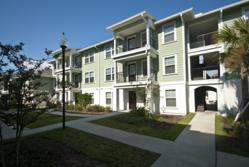 We are delighted that NAHB has singled out Janie's Garden Phase 1for this honor," said William Russell
Sarasota, FL (PRWEB) February 28, 2012
The Sarasota Housing Authority (SHA) and The Michaels Development Company have been recognized for outstanding achievement in neighborhood building and design by The National Association of Home Builders(NAHB) for Phase 1 of Janie's Garden, an 86-unit, garden-style apartment community in the historic Newtown neighborhood of Sarasota.
Featuring both affordable and market-rate apartments and townhomes and a LEED-Certified "Green" community center, Janie's Garden won NAHB's "Best in American Living Award" for Neighborhood Design.
"We are delighted that a national housing organization has singled out Janie's Garden for this honor," said William Russell, executive director of the Sarasota Housing Authority. "We're even more proud that this beautiful housing community and its wonderful amenities and social services programs are making such a significant difference in the lives of our residents."
Located on the site of the former Janie Poe public housing complex, Janie's Garden 1 is the first phase of an ambitious plan by the city and SHA to revitalize a neighborhood once blighted by neglect. In December, the SHA and Michaels unveiled Janie's Garden Phase 2, which includes additional affordable and market-rate apartments as well as 10,000 square feet of retail space fronting the historic community's main street, Martin Luther King Way.
Now in its 28th year, NAHB's "Best in America Living" Awards program recognizes outstanding achievement by builders and design professionals in all sectors of the residential housing industry including single-family production, custom, rental, affordable, interiors, remodeling, community and international, based on the principle that good design is not and should not be limited to high-priced and/or custom homes. Even the simplest, most affordable homes can receive an award if they showcase good design.
Award winners were announced during the annual NAHB International Builders' Show in Orlando earlier this month.
In addition to the Sarasota Housing Authority and Michaels Development Company, the project team for Janie's Garden Phase 1 included Torti Gallas & Partners, which served as Architect and Land Planner; Carlson Studio Architecture, which served as the local architect and who designed the Green community Center, and Clark Construction Group, as the builder.
About the Sarasota Housing Authority
The Sarasota Housing Authority(SHA) was established as a public housing authority in 1938 under Florida statute to administer federal housing assistance for low, very low and extremely low-income families. Presently SHA provides subsidized housing for over 1,300 low-income families in Sarasota, FL. SHA administers 436 Public Housing apartments, 75 units of Section 8 New Construction, and 800 Section 8 Housing Choice Vouchers. SHA administers an annual budget of over $10 million with a staff of 24.
About the Michaels Development Company:
Headquartered in Marlton, NJ, The Michaels Development Company is part of The Michaels Organization, a family of eight integrated but independent companies dedicated to excellence in affordable, mixed-income, military housing and student housing. Michaels Development is the number one affordable housing developer in the country and in 2010 was named the Multifamily Development Firm of the Year by the National Association of Home Builders. The Michaels Organization currently owns more than 43,000 units and manages more than 38,000 units in 32 states, the District of Columbia, and the U.S. Virgin Islands.
###