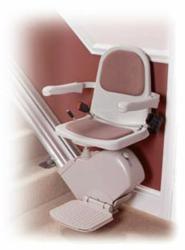 this arrangement is ideal for those living on islands where there is little or no availability of local sales centers or installation personnel
Port St. Lucie, FL (PRWEB) February 24, 2012
The Lift Store has been experimenting with the Caribbean market for a few years and has found an increasing interest in their mobility lifts. Therefore, they have begun to penetrate the Caribbean islands with pointed advertising via the internet. According to studies, the population in the Caribbean is aging in accord with world trends. Thus, many seniors need mobility assistive devices, such as, stairlifts and vertical lifts. Sources in many islands of the Caribbean for handicapped lifts, including stair lifts and vertical platform lifts are scarce. Inhabitants must seek companies in the U.S. mainland who are willing to do business offshore. The Lift Store will now fill this growing need.
With existing customers in many islands including St. John, St. Kitts, St. Thomas, St. Croix, Tortola - BVI, Curacao, Puerto Rico, the Dominican Republic and the Bahamas, The Lift Store will now expand into other islands. They have received numerous inquiries from other islands, including Trinidad & Tobago, Barbados, St. Lucia, the Cayman Islands and Jamaica. For those needing installation of a mobility lift, whether a stair lift or vertical platform lift, The Lift Store dispatches qualified technicians from its Florida office. Dennis Corrado, Director of The Lift Store remarked, "this arrangement is ideal for those living on islands where there is little or no availability of local sales centers or installation personnel."
Stairlifts are simple devices used to transport a mobility-challenged person up a flight of stairs, whether inside or outdoors. Vertical platform lifts are used primarily for those who require being lifted from one floor to another while in a wheel chair. They are available in lift heights from 4 ft. to 14 ft. and can be installed either inside or outside the home also. The Lift Store product line features high quality mobility devices, such as, Acorn stairlifts and Harmar vertical platform lifts.
Until recently it has been a challenge for average income Caribbeans with mobility issues to facilitate the full use of a home with stairs. The only options were either moving out (with invariable financial and emotional drawbacks), or spending the equivalent sum of a new automobile on a residential elevator (where actually feasible). For many of the Caribbean's mobility-challenged residents who live on fixed incomes or have limited financial resources, neither option was viable. Now, the availability of mobility lifts from The Lift Store USA will provide these residents with an affordable remedy so that they can retain a measure of personal dignity and improve their quality of life.
###