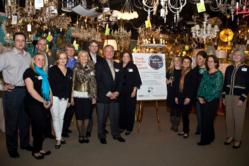 Shades of Light is committed to supporting the community and has a long history of charitable giving
Richmond, VA (PRWEB) February 28, 2012
Shades of Light was delighted to partner with KDW Home for a successful "Feather The Nest" charity event held February 16th at Shades of Light's Virginia Beach showroom located at 1828 Laskin Road. The event was an enormous success, attracting over 300 attendees despite the pouring rain and cold temperatures! The event helped to raise thousands of dollars in cash and home supplies for the Hope House Foundation, an organization dedicated to providing support services to individuals with developmental disabilities. Ann Standing (Panache Interiors) and Duff Kliewer (architectural firm Cox Kliewer & Co) helped to organize the "Feather The Nest" event along with Marvin Daniel (KDW Home) and Lynne Seagle (Executive Director of Hope House). Music was provided by More Perfect Jones and food donated by Kelley's, Bella Monte Marketplace, Aldo's, Croc's 19th Street Bistro, and Plaza Azteca.
Shades of Light is committed to supporting the community and has a long history of charitable giving:
2011 - Angel Tree sponsor to grant holiday gift wishes to disadvantaged children, Richmond, VA
2010 - Lighting for Baltimore Girls Hope Home for at risk children (through Extreme Makeover Home Edition)
2009 - Sponsored Cure By Design Event to benefit American Cancer Society, Richmond, VA
2008 - Donated to Old Westbury Gardens Showhouse, Old Westbury, NY
2007 - Habitat for Humanity, Richmond, VA
2006 - Donated lighting to Hampton Designer House (to benefit Southhampton Hospital, Southhampton, New York)
2005 - Committed portion of all sales to Hurricane Katrina Animal Rescue
2004 - Sponsored Lewis Ginter Botanical Gardens Festival of Lights
Hope House Foundation provides individualized supported living services for individuals with developmental disabilities, such as Down Syndrome, autism, Fetal Alcohol Syndrome or physical challenges, including cerebral palsy, hearing or visual impairment, heart conditions, asthma and psychiatric disorders. Hope House provides equipped homes and apartments rather than group institutions for these individuals, enabling them to lead their own lives with independence and dignity. An innovator and leader in the field of intellectual and developmental disabilities, Hope House now serves more than 130 people living in Norfolk, Portsmouth, Chesapeake, and Virginia Beach, Virginia. The executive director of Hope House, Lynne Seagle, was awarded a Joseph P. Kennedy Foundation Leadership Award for her work on behalf of people with disabilities. To contribute to Hope House Foundation please visit http://www.hope-house.org/donate.
About Shades of Light
Shades of Light is a multi-channel designer and retailer of lighting, rugs, mirrors, accent furniture, wall decor and other home furnishings sold to residential and commercial customers. Since 1986, Shades of Light has offered unique, high-quality designs through its award winning catalog, website and showrooms. As a leader in fashion forward design, Shades of Light is committed to excellence in customer service, technical expertise, and unique custom products, including over 1,000 products designed by its in-house design team. For more information please visit http://www.shadesoflight.com.
# # #