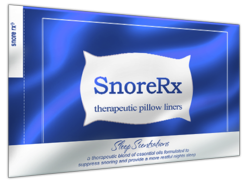 We're even paying the shipping
Clearwater, FL (PRWEB) February 24, 2012
Infusion Brands International, Inc. (Infusion Brands) (INBI.PK) today announced a limited time free trial of their newest product, Snore Rx.
SnoreRx is the only patented, all natural pillow liner infused with essential oils, which suppress your snoring and help you breathe better at night, providing a more restful night of sleep for you (and your partner). Each pillow liner is infused with a proprietary blend of essential oils including, but not limited to eucalyptus, lavender and geranium known to relieve snoring symptoms. Because it adheres under the pillow cover, it is the first completely non-invasive way to help suppress your snoring! As an added benefit, Snore Rx produces a relaxing and refreshing smell very similar to that of a five star hotel spa experience.
"Typical snoring remedies call for sticky bandages, clunky mouthpieces and nasty tasting sprays. Unlike other snore suppressing remedies, which you have likely tried and maybe even stopped using because they are such a nuisance, SnoreRx is completely non-invasive and easy to use, making it more likely that you will actually use it and solve your snoring issues once and for all! We're confident enough in our product that we're willing to send anyone a 3 night sample, completely free with no credit card required." said Bob DeCecco, CEO of Infusion Brands, "We're even paying the shipping during this very limited time offer."
According to BCC Research, the worldwide sleep aids market reached revenues of $25 billion in 2009, and are anticipated to reach $33.2 billion in 2014. Snore Rx is a newly patented, non-invasive sleep aid delivery system to distribute essential oils without the mess that often comes with essential oil based products. This patented technology consists of a soft cushioned pillow liner, infused with a combination of natural aromatherapy essential oils, which lasts for 4 to 6 nights. As you sleep, the air you breathe is naturally enhanced by the essential oils to provide you with the proper night's rest, relaxation, and relief from common sleep disorders such as snoring and insomnia.
About Infusion Brands International
Infusion Brands International, Inc. (INBI) is a global consumer product company which builds and markets brands leveraging direct to consumer channels of distribution. With physical offices in North America, Europe and Asia, Infusion Brands has worldwide reach and capability
###