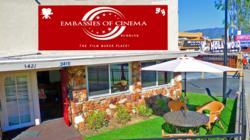 The Film Maker place, the Film Maker Revolution!
Burbank, Hollywood, CA (PRWEB) February 26, 2012
"Embassies of Cinema" - The film maker place, the film maker revolution. The founder and Film Maker, Leonardo Corbucci, realized this project in 1999, but only this year, more than 10 years later, the Embassies of Cinema are finally open and have a became reality.
These locations are simple and extremely helpful tools for Film Makers. They provide a production rental company with equipment prices half of their competitors; a coffee lounge to relax, talk about cinema and meet others in Entertainment business. Embassies of Cinema occasionally invest in their clients' projects and produce or co-produce their movies. They are working towards becoming a worldwide chain, a distribution company, a film school, a Magazine, an international film festival, a web TV, and much more around Cinema.
The biggest advantage of visiting one of the locations is the unique atmosphere. It is a must for anybody who wants to start making connections in the Movie business. Daily, directors, producers, cinematographers, editors and even actors show up to find opportunities and make acquaintances in the industry. The Embassies of Cinema helps people to find and connect with cast and crew for projects.
The first location is in the heart of Movie Business in Burbank Hollywood, California situated right in front of Warner Brothers and NBC Studios; the same neighborhood which is home to Universal, Walt Disney Studios and 300 other production and distribution companies. "Embassies of Cinema" are opening soon in Atlanta and New York City. A strong connection between each location will guarantee Film Makers a way to organize cast, crew and rent Film equipment when they go to shoot in another City or State (avoiding the costs of shipping equipment).
Clients have commented, "It can easily become the newest trend that Film Makers have been waiting for." The Founder adds, " The more Embassies of Cinema that will open around the country, the easier it will become to help and connect Film Makers. And the best part is that opening an Embassy of Cinema is not difficult. Just give us a call."
EMBASSIES OF CINEMA
3419 W. Olive Ave
Burbank, CA 91505
TEL. (818) 563-9880
Fax 818-558-1072
http://www.embassiesifcinema.com
pressrelease(at)embassiesofcinema(dot)com
Open from Monday to Friday
from 10:30am to 6:30pm
(We are located between
Warner Bros Studios & NBC Studios).
###