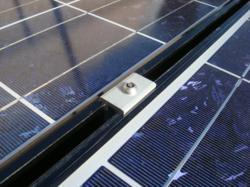 "We replaced the standard 5/16" bolt with Raptor™ in a large remote solar project in Hawaii. It not only tested well against vice grips and other tools, but will last the life span of the panel, 25 -30 years" Greg McPheeters,Senior Engineer, SnapNRack
Gilbert, Arizona (PRWEB) February 28, 2012
Bryce Fastener Inc. has recently added a new design to their line of anti-theft fasteners specifically intended for the solar industry. Solar panels are secured to mounting racks by four standard bolts and are easy to dismantle by unauthorized personnel. The new Raptor™ fastener meets the required criteria for this type of application because the design integrates high- security theft protection, high strength, and better grounding potential for solar panel mounting systems.
Private, highly controlled keyways keep unauthorized personnel from breaching the panel, while larger head style and pin provide 30% greater torque strength than standard fasteners. The deep serrations underneath the head not only prevent loosening over time, due to thermal expansion and contraction, but also double up on the grounding effect of the screw. Cold forged to ASTM standards, Raptor™ is available in standard and custom sizes. Free samples along with pricing will be available at Booth #1325 at the PV America West solar show.
Bryce Fastener is a custom manufacturer of anti-theft high security screws and nuts, for a wide range of applications. Unlike other suppliers that stock off-the-shelf tamper resistant fasteners that can be removed with inexpensive and widely available bits, Bryce Fastener delivers a customer-specific unique privately keyed lock, resulting in a 99.9996% security track record, which is more effective than the strongest padlocks.
###