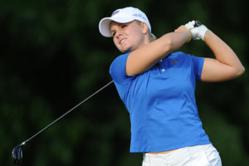 ... I always played a step ahead ... When I was a junior player, I was thinking about college, and as a college player, I was thinking about the professional tour.
Birmingham, Mich. (PRWEB) February 27, 2012
Pro golfer Jessica Yadloczky, of Casselberry, Fla., is a University of Florida graduate embarking on her rookie season on the Ladies European Tour with the Lalla Meryem Cup in Morocco, March 22-25. She was the winner of The Otter Company 2012 PGA Merchandise Show drawing for outerwear from the all-new 2012 Otter Company collection. Jessica selected a jacket from the Storm Fleece line.
The Otter Company is a fan of Jessica and will be following her progress via Facebook and Twitter at the Lalla Meryem Cup.
Jessica's Story
Jessica Yadloczky knew she would be a golfer since she first picked up a club, before the age of seven. As a toddler, Jessica was influenced by her dad, Steve Yadloczky. Although not a pro, Steve is a dedicated amateur golfer who passed his love of golf to Jessica, who took it heart and added her own competitive fire.
At the age of seven, she was competing in junior tournaments in the Orlando, Fla., area. "I had to play against boys," Jessica remembers, "because there weren't enough girls – and I kept up with them."
By the time she reached 10 years old, she found girls to compete against, but she had to play up to older divisions; a pattern that continued throughout her junior career.
"I always played up when I was younger," she said. "Because of that, I guess I missed out on 'learning how to win,' but I learned more about the game and that experience prepared me to compete seriously at a higher level."
Jessica took the learning experience seriously, realizing at about 12 years old that if she focused, practiced and played at a high enough level, she could attend college on a golf scholarship. That realization, and her work ethic, set up a serious high school career.
Jessica was the runner-up individually at the Florida High School State Championships in 2005 and 2006, playing at Lake Howell High School. As a junior, at just 17, she qualified for the LPGA Futures Tour and spent five weeks, by herself, on the road in her first experience at that level.
"It was a great experience," said Jessica. "Just like I always played up, I always played a step ahead too. When I was a junior player, I was thinking about college, and as a college player, I was thinking about the professional tour."
It was at the University of Florida that Jessica's early experiences learning the game paid off in success and consistent winning.
"I wasn't 'star struck' by college golf," she said, "I played the game for real since I started, and the learning experiences earlier in my career, especially the Futures Tour, prepared me to compete at that level."
She was a NGCA All American Second Team selection in 2008, while at the University of Florida. That same year, she earned All-Southeastern Conference (SEC) First Team, All-Freshman and All-Regional honors. Additionally, in 2008, Jessica was a member of the winning USA team at the Fuji Xerox USA v. Japan Collegiate Championship in Tokyo.
Each step of her college career took Jessica a step closer to her goal of turning pro. A goal, she said, that was foretold in a craft project, about making a wish come true, that she made when she was eight years old. "I made a pot of gold, with a rainbow connected to it," she said. "On the pot of gold, I put 'pro golfer' and all the colors of the rainbow represented things I needed to do to get there like 'don't do drugs' and 'practice' – I guess I've had this dream since I was eight or nine."
Jessica learned early in her career however, that dreams don't come true without a lot of hard work.
"Practice how you play is my approach," she said. "My coach puts me through 'boot camp' to get me ready. It's a grueling regimen. Things like hitting seven out of ten balls on target on the range to move on. Sometimes I hit 200 balls – it's all target-oriented.
"Chipping, too, for up to two hours into a three-foot circle – some practice days I just want to quit; but I don't because it all makes me a better, stronger player."
Jessica's coach, who she credits for much of the success she's achieved, is Patti McGowan. McGowan is a Class A member of the LPGA Teaching and Club Professional Division. She was voted one of the 50 Best Women Teachers in America in 2010/11; and she is the author of the book, "Knack 4 … almost Anything …".
Following her graduation from the University of Florida in August 2011, with a degree in Criminology, Jessica turned professional and embarked on the next stage of her career – and fulfilling the dream she had when she was just eight years old. But the hard work continues.
In September 2011, she attended LPGA Qualifying School through the second stage, but missed the third stage.
"My game is sharper now," Jessica said, "and I attended the Ladies European Tour (LET) 2012 Qualifying School in January, in Spain."
True to her style, Jessica arrived at LET Q-School a week-and-a-half early to focus and prepare. She was, in fact, the first to arrive – on December 28. On her own a week before the official practice round, she found a local caddy and used the time wisely, learning the course, getting comfortable and preparing for her next challenge.
Her preparation and focus paid off, and Jessica earned her LET Tour Card; and finished as the top American in the class, as well.
"I'm playing my first LET event March 22-25, the Lalla Meryem Cup, in Morocco," Jessica said, "I'm pretty excited."
What's next for this young golf professional from Casselberry, Fla.?
"I'm blessed to be on the LET," she said. "I really want to make the most of this opportunity and have some pro success.
"Of course," she added, "some day I want to qualify for the LPGA tour."
About The Otter Company
The Otter Company, headquartered in Birmingham, Mich., designs, manufactures and markets comfortable, technical and ecologically sound outerwear for sports people. We maximize playtime and extend sessions and seasons with garments that allow play earlier in the spring, later in the fall and in any inclement weather.
Inspired by the otter, whose fur is the thickest in the animal kingdom and is constructed in two layers to trap air to generate warmth, and keep its skin dry – the otter is comfortable at play in any climate. Otter garments emulate this brilliant natural design, and the spirit of the otter – its playfulness, its freedom, its willingness to continue to enjoy itself when the weather is less than ideal. We say, "Go out. Stay out. Keep playing. Stay comfortable." It's the otter's way, and The Otter Company's pledge.
###