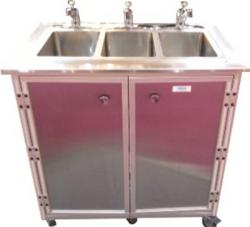 Antioch, CA (PRWEB) February 28, 2012
When hand-washing and streamlining productivity is the main focus, sometimes portable sinks with three bowls is what is needed. Monsam Enterprises, http://www.portablesink.com is filling the need in schools, restaurants, labs and elsewhere with its new, built-to last workhorse of a portable hand-washing sink…the model NS-003SS. The newest model comes with three standard size bowls. This allows for heavier traffic use than with other sinks. Incorporating a third bowl into the already well-engineered design allows for even greater attention to sanitation for users that require fast and effective hand washing - keep operations running swiftly and smoothly. Monsam Enterprises is offering the NS-003SS at a special price for a limited time.
In addition to the one five gallon tank and one seven gallon waste water tank, the NS-003SS comes equipped with an extra set of tanks, ensuring there won't be any delays or interruptions in the desired water flow. There is no need for additional plumbing or drainage facilities, making these hand washing sinks ideal for outdoor use.
Monsam is proud to have their newest portable sink NSF-certified, as many of their models currently carry this certification. NSF-certification is given to those products that pass a strict guideline of safety, durability and style.
This newest model in Monsam Enterprises portable sink lineup is available in six colors (black, white, blue, red, gray, maple) to fit any décor, assuring that customers have a choice in keeping their business look consistent.
The portable hand-washing sinks from Monsam are constructed with cutting-edge technology, using high-grade polymers. Made with a study frame, they can be used inside and outside, and all come equipped with locking safety casters - helpful for transporting from location to location. These sinks are built rugged for heavy use while providing safety and sanitary conditions. The NS-003SS comes with a 3 year warranty, more than other companies offer.
For more information about the Monsam NS-003SS 3-bowl hand washing sink, visit
http://www.portablesink.com/stainless-steel-certified-bowls-portable-sink-ns003ss-p-2156.html
Product Details:
Product #: NS-003 SS
Dimensions:

Weight: 185 pounds
Cabinet: W: 24", L: 37.5", H: 37.75"
Each stainless steel basin: W: 14", L: 10", D: 10"
Dimensions subject to change
Colors: Black, White, Gray, Blue, Red, Maple
Comes with a 3 year Monsam Enterprises Warranty
###