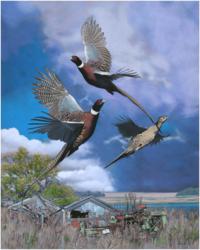 Watertown, SD (PRWEB) February 28, 2012
International award-winning wildlife artist, Joshua Spies, recently released his new piece, "Pheasants."
"Pheasants" features 2 roosters and 1 hen ring neck pheasant flushing. The vibrant colors in this piece make it especially eye-catching.
Joshua's inspiration for this piece came from his own hunting experiences in northeast South Dakota.
Although the original artwork is already sold, there are limited edition signed and numbered prints available now at http://www.joshuaspies.com
About Joshua Spies:
Joshua Spies is an international award-winning artist from Watertown, South Dakota. He earned his fine arts degree at South Dakota State University and has traveled the world observing and photographing wildlife. Joshua has been a finalist in the Federal Duck Stamp competition five times and won the competition in 2008. The fall 2006 Wildlife Art Magazine named Joshua one of the top 16 wildlife artists, and Dallas Safari Club announced Joshua Spies as the winner of their prestigious 2007 Artist of the Year. Joshua's most recent award was being named the 2011 Safari Club International Artist of the Year. A dedicated conservationist, Joshua is a life member of the Foundation for Wild Sheep, the Rocky Mountain Elk Foundation, Pheasants Forever, Safari Club International, Ducks Unlimited, Dallas Safari Club, and ISHA. He is also a member of Grand Slam Club, Whitetails Unlimited, Mule Deer Foundation, Delta Waterfowl, and the NRA.
###