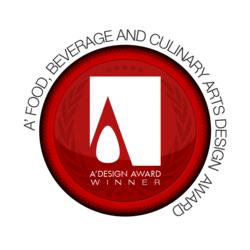 Fine food and best beverages will be awarded
Como / Italy (PRWEB) February 25, 2012
Today, A' Design Award & Competitions announced a new design award category: Food, Beverage and Culinary Arts Design Award, which is a niche design competition open to submissions of foodstuff and beverages to help consumers discover new, delicious and unique tastes.
Food and beverage producers worldwide are invited to take part in the competition by applying online and by making physical submissions of their foodstuff and beverages. Submitted products will be evaluated by gourmets for taste and individuality, and will further be professionally judged by academics for presentation and packaging.
Entries to Food, Beverage and Culinary Arts Design Award will be judged on five key aspects such as taste, originality, presentation, innovative content and social responsibility. During evaluation, unique taste of the product, innovative content and individuality of the offerings will be given more weight, while packaging and visual presentation of the product will also be voted by professionals.
The ultimate goal of the award is to attract the attention of culinary media to award winning products through coverage and publicity. Winning entries will receive free communication and publication services from A' Design Award in addition to the award trophy, certificate, badges, logo and other services that are provided to award winners.
Unlike any other awards in food and beverage sectors, winners are not obliged to make any further fees for claiming the award, and winners' benefits as listed in adesignaward.com will be provided free of charge to all winners. Prospective participants can apply online at adesignaward.com by paying the one time nomination fee of 375 Euros.
About the A' Design Award: The A' Design Award & Competition is an annual international design award and competition aiming to highlight design oriented services, products and offerings. A' Award present its winners with publication and advertising opportunities. Further information regarding the award can be accessed from whatisadesignaward.com
###