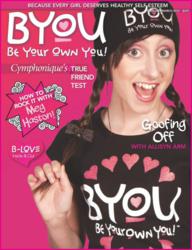 Express yourself, and don't worry about what others think, advises Arm
Denver, CO (PRWEB) February 27, 2012
Teen actress Allisyn Arm, who starred as Zora on Disney Channel's "Sonny With A Chance" and currently stars as a series regular on their new hit show "So Random," is BYOU Be Your Own You magazine's newest cover girl
Teen actress Allisyn Arm, who starred as Zora on Disney Channel's "Sonny With A Chance" and currently stars as a series regular on their new hit show "So Random," is BYOU Be Your Own You magazine's newest cover girl. In this issue, she offers an exclusive interview with BYOU CEO Debra Gano, where she discusses her thoughts about some of the greatest challenges girls face today and offers advice on how to maintain healthy self-esteem and stay empowered.
"I think one of the biggest challenges for girls today is a new one: cyber bullying," says 15-year-old Arm. "Mean comments posted about you online are not OK. Usually someone is trying to be funny and they often don't mean what they wrote, and almost always they wouldn't say it to you in person. If it's really hurtful, or even threatening, then you need to tell a parent or teacher right away!"
Gano, founder and publisher of BYOU Be Your Own You magazine, looks for positive role models for their readers. "Girls today need as many healthy influences as possible. Allisyn is incredibly sweet, kind, and authentic – she really exemplifies the qualities we encourage in girls and we are thrilled to have her be such a positive role model for us!" says Gano.
She asked Arm to offer a key self-esteem tip for girls. "Express yourself, and don't worry about what others think," advises Arm. "Your clothes, hairstyles, make-up, etc. should be how you see yourself, not just an attempt to fit in."
BYOU Be Your Own You magazine is a new self-esteem magazine for girls ages 7-15, and focuses on building confidence, inner beauty awareness, and making a difference in the world. It features exclusive interviews with today's positive celebrity role models, empowering stories of 'real' girls making a positive impact, and powerful self-esteem tips, projects, quizzes, puzzles and more – all encouraging girls to 'be your own you.' As part of BYOU, LLC, the magazine supports the positive-messaging offered in BYOU's apparel and education for girls.
The annual subscription rate is $17.97 and can be ordered at http://www.shopBYOU.com.
###