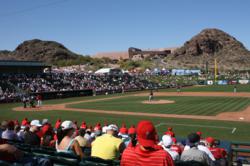 This year, it is even easier to see Tempe's home team, the Angels, play at Tempe Diablo Stadium with the new free Angels Baseball Spring Training Trolley.
Tempe, AZ (PRWEB) February 28, 2012
Listen for the crack of the bat, the cheers from the stands and the play by play from the announcer…it is almost time for spring training in Arizona. March 2 is the season opener for Cactus League Spring Training. Games continue through April 4, giving fans plenty of opportunities to preview the 2012 Major League Baseball season. The Tempe, Arizona Tourism Office can help visitors plan an unforgettable spring training trip. This year, it is even easier to see Tempe's home team, the Angels, play at Tempe Diablo Stadium with the new free Angels Baseball Spring Training Trolley.
After a record breaking attendance year in 2011 and the addition of some of baseball's biggest names, fans are encouraged to purchase tickets early. There are 15 MLB teams, including the Angels, Cubs, Giants and Rockies, playing over 200 games in just over 30 days. With a convenient location in the heart of Metropolitan Phoenix and a wide variety of attractions, Tempe is the perfect home base for baseball fans. Schedules, ticket information, stadium maps and hotel specials can be found at the Tempe Tourism Office website, http://www.tempebaseball.com.
Centrally located just 10 minutes from Phoenix Sky Harbor Airport, and surrounded by ideal accommodations and dining destinations, Tempe Diablo Stadium is one of spring training's premier facilities.
This year, getting to and from the ballpark will be easier than ever thanks to the Angels Baseball Spring Training Trolley. This free trolley will have two convenient pick-up locations, one at Tempe Marketplace, located at McClintock Drive and Rio Salado Parkway, and the other on Mill Avenue, on the northwest corner of Fifth Street and Mill. Most games begin at 1:05 p.m. and the trolley will run from 11 a.m. until half an hour after each game. For information about pick up locations and more details, visit http://www.tempebaseball.com.
Tickets for home games at Tempe Diablo Stadium start at just $10 making it an affordable outing for the whole family. Spring training provides fans with the unique opportunity to see some of their favorite teams and players up close. It is not unusual for players to sign autographs before games and interact with fans personally. This year all eyes will be on the newest addition to the Angels roster, three time MVP and fan favorite, Albert Pujols.
Although baseball is the main focus in Tempe during spring training season, there are still many other great ways to enjoy the Arizona sunshine.
The ASU Karsten Golf Course is offering a "Let's Play 2" special. Golfers can bring in their spring training ticket stub and receive 25% off of the posted resort guest fee rate. This offer is valid through March 31, 2012.
For an afternoon of fun the whole family can enjoy, explore Tempe Beach Park or go boating on Tempe Town Lake. Kayaks, pedal boats, paddleboards, skiffs and hydrobikes are all available to rent. Kayak rentals start at just $15 at Tempe Boat Rentals.
Located just north of Tempe Town Lake, Papago Park features 1200 acres of scenic Sonoran Desert trails. Hike, bike or have a picnic and enjoy great city views of downtown Phoenix and Tempe.
For more information about planning a spring trip to Tempe, please visit the Tempe Tourism Office at http://www.tempetourism.com or call 800-283-6734.
About Tempe Tourism Office
The Tempe Tourism Office is a non-profit organization devoted to marketing Tempe, Arizona as a desirable visitor and group destination site. The Tempe Tourism Office's mission is to provide visitors, media professionals and meeting planners with information on Tempe hotels, Tempe restaurants, Tempe entertainment and local points of interest. To learn more about Tempe, Arizona please call 480-894-8158 or 800-283-6734 or visit http://www.TempeTourism.com.
###