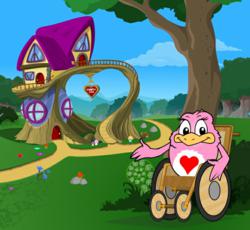 We need a new wave of principled school reform that will contribute to accommodating the diversity of our student population
Vancouver, British Columbia (PRWEB) February 27, 2012
When 80 countries signed the UN Convention on the Rights of Persons with Disabilities, advocates of inclusive education and parents of special needs children around the world ramped up their efforts to change the practice of segregating children with mental or physical challenges from their peers.
In a report for the Canadian Education Association, educator and human right advocate Gordon Porter writes, "We need a new wave of principled school reform that will contribute to accommodating the diversity of our student population." Cackleberries Entertainment Inc. is part of that new wave in educational reform.
As schools are gradually changing policies to reflect inclusive education—the idea that all students, including those with disabilities, are kept in mainstream classrooms in regular schools—Cackleberries' virtual world of Oville now has a special needs character that is given all the rights and responsibilities of the other characters in the game. A new Cackleberry named "Charitee" now resides in the official virtual Variety House and uses a wheelchair to get around Oville.
Cackleberries recently partnered with Variety International—The Children's Charity to help fundraise for the organization, which supports children who have special needs, while at the same time educating young children so that they come to accept and celebrate diversity in the world.
Since Cackleberries is designed for children aged three to seven, Eronne Foster, CEO of Cackleberries believes that their new "Variety House Awareness Program" is a powerful way for the company to lend its support to the movement for inclusion and acceptance. "Awareness of difference starts at an early age," said Foster, "and that awareness can be positive or negative. In Oville, the message is definitely a positive one for all children, regardless of their abilities."
For more information about the partnership between Cackleberries and Variety, or to make an online donation to Variety, please go to http://www.cackleberries.com/variety.
ABOUT CACKLEBERRIES
Cackleberries is a children's edutainment (entertainment and education) company offering a website, animation, toys, games, music and more. Most importantly Cackleberries introduces young children, three to seven, to online education with a dedication to keeping them safe. Cackleberries protects children from the internet with the latest technology, provides family-friendly content, and never advertises to children. The living virtual world of Oville is a place for children to learn and play in a guaranteed safe environment.
###