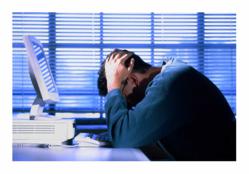 I am on Facebook and twitter as well, but I feel so much safer on ASN, because I know people understand me" Anonymous ASN user
New York, NY (PRWEB) February 27, 2012
Some people say Facebook is the entire social media solution anyone would ever need; this is far from the truth. While there is no "replacing" Facebook, there is a growing trend towards the interest based networks. In all their popularity, the "general" social networks are not always able to deeply fulfill their interest based needs of the users. In particular, when it comes to health and sensitive personal topics, such general social networks miss the mark entirely. They are too public and at times, impersonal.
AnxietySocialNet (ASN) is a social network for those afflicted with disorders like agoraphobia, social anxiety, panic attacks, obsessive compulsive disorder and all other forms of anxiety. ASN is a unique example of a niche social network. However, it goes beyond the trends by also acting as a strong support system. It takes out the impersonality of the more general social networks and also focuses on making a safe and comfortable environment to nurture a community of those experiencing anxiety and seeking help.
ASN has the potential to impact a large percentage of the population, a part of the population that usually does not get the help they need. The common anxiety sufferer is under a great deal of stress by not wanting to share on his feelings and experiences on such a widespread and public social network site, like Facebook. The fear of being judged by friends and family stops such people from sharing their inner concerns and asking for help. ASN provides such people with a safe environment for socializing online, learning from others, and ultimately seeking help.
As the founder, Salomon Ptasevich explains, "On ASN, users can join anxiety support groups, learn about anxiety through a user powered anxiety Q&A system, and keep an online diary allowing them to share their personal experiences within the online community."
Privacy, comfort, and an instant sense of understanding set ASN apart from other social networks and online anxiety resources:
"I am on Facebook and twitter as well, but I feel so much safer here, because I know people understand, and I don't have to go into depth about what I am going through, everyone already knows this reduces the stress level." ~ Mary Jones
ASN looks to be a promising new social network for those sincerely looking for a comfortable, private, and helpful environment. ASN could represent the next step in helping to manage and treat anxiety disorders.
Source: http://ebmh.bmj.com/content/9/1/27.extract
###