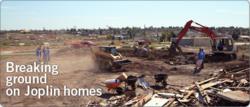 Springfield, Missouri (PRWEB) February 24, 2012
Faith-Based Humanitarian Organization Breaks Ground On Safer, Greener Homes For Joplin Tornado Victims
U.S. Department of Homeland Security Watches with Interest as Convoy of Hope Builds New Resilient, Greener Homes
➢ Feb. 27, 11 a.m. CT Groundbreaking for Innovative Homes
➢ Interviews available with new homeowners, Convoy of Hope leaders, Homeland Security rep, Joplin mayor
Faith-based humanitarian organization, Convoy of Hope is giving confidence and a fresh start to a group of people who have not had a place to call home in nearly a year. Last year, when a massive, deadly tornado devastated Joplin, Jackie Allen and her nine-year-old son Dylan lost nearly everything. Allen's mother passed away just months before the tornado hit, leaving Allen the home she and Dylan lived in, which it was quickly demolished by the storm.
"I had just paid off the home before the storm hit," said Allen. "I hadn't yet had a chance to get insurance and found myself homeless for the first time in my life." With the help of Convoy of Hope, Allen's new home will be greener and more storm-resistant than their prior home, and will be completed just in time for the mother-son pair to move in before the one-year anniversary of the tornado—May 22.
In partnership with the Global Green Building, Joyce Meyer Ministries–Hand of Hope, Project Safe Home, and T.F. Concrete Forming Systems, Convoy of Hope is embarking on a mission to help build at least a half-dozen storm-resilient, "green," universal design homes for deserving families in Joplin. Groundbreaking for the universal design homes will occur on Feb. 27, and the homes are scheduled to be completed just three months later.
Convoy of Hope and its community partners will construct homes that emphasize protections against strong winds and promote environmental efficiencies. These partners hope to coordinate efforts with the Department of Homeland Security and the Federal Emergency Management Agency (FEMA), who would provide expertise on other "resilient" constructions. These new high-tech, low-energy buildings are specially designed with reinforced concrete walls and other innovations to be sturdier and more sustainable than traditional houses.
"We're happy to put our newly formed Extreme Hope Fund into action to build these homes," said Jeff Nene with Convoy of Hope. "Our goal is for these homes to give families displaced by the tornado a new lease on life."
About Convoy of Hope
Convoy of Hope is a faith-based organization with a driving passion to feed the world through international children's feeding initiatives as well as disaster response, partner resourcing, and U.S. community outreaches. Since 1994, Convoy of Hope, a Charity Navigator Four Star Award winner, has helped more than 50 million people in some 100 countries and has given away more than $254 million wholesale value in food and supplies.
Jeff Nene
Convoy of Hope / Senior Director/Public Relations -- Public Relations Officer
O-417.823.8998 Ext. 360
C-417.860.2196
jnene(at)convoyofhope(dot)org
W-convoyofhope.org
###