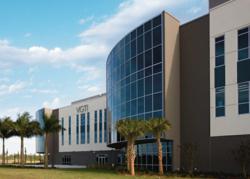 Tradition, FL (PRWEB) February 29, 2012
The Tradition Center for Innovation (TCI) and the Vaccine & Gene Therapy Institute (VGTI) Florida today announced the grand opening of a new, 100,000 square foot facility within TCI's 150-acre research park located in the planned community of Tradition in Port St. Lucie, Fla. Since breaking ground in 2006, TCI has attracted world-class research institutes and healthcare facilities making it one of the fastest growing immunology research hubs in the country.
As a pioneer in translating scientific discoveries into the clinic, VGTI Florida brings a wealth of knowledge and prestige to TCI's rapidly expanding biocluster. The facility, which is mainly composed of scientific space, resides next to the Torrey Pines Institute for Molecular Studies. Together, the two anchor members have collaborated efforts to take their discoveries from the bench to bedside with the help of fellow anchor member, Martin Health System's nationally recognized clinical program.
"Having the opportunity to expand our portfolio and work alongside leading institutes, such as Torrey Pines, solidified our decision to expand to Florida and house our new facility at TCI," said VGTI CEO, Mel Rothberg. "We are thankful for the support from our fellow anchor members at TCI and the city of Port St. Lucie and look forward to being a part of the community."
Since TCI's first anchor member, the Torrey Pines Institute for Molecular Studies, expanded its San Diego—based facility to Tradition in 2006, TCI has brought an estimated 170 new jobs to the community and created an estimated 1,000 construction jobs. In addition, business service companies that provide life science products such as cylinder gas, biological reagents, gowning, IT, office furniture, scientific equipment and others, have all seen tremendous increases in sales.
"Each and every one of TCI's anchor members have played a pivotal role in the development of this park," said Andrew Favata, Vice President of Mann Research Center. "The opening of VGTI's Florida facility further demonstrates TCI's position as one of the only bioclusters focused on translating immunology and cancer research."
TCI's anchor members include, the Torrey Pines Institute for Molecular Studies, VGTI Florida, Mann Research Center and Martin Health System, which is set to brake ground on its 82-bed acute care and clinical trials hospital on March 14. Construction on Mann Research Center's 60,000 square foot medical office facility will begin in August 2012.
About Tradition Center for Innovation
Located in the heart of Florida's Research Coast, the Tradition Center for Innovation (TCI) at Tradition in Port St. Lucie is a 150-acre research park featuring a fast-growing roster of innovative, world-class biotech, life science, and research organizations. For more information, visit http://www.tciflorida.com and http://www.twitter.com/tciflorida
About VGTI Florida
VGTI Florida is a leading immunological research institute that is on an urgent mission to transform scientific discoveries into novel treatments and cures for infectious diseases such as HIV/AIDS, cancer, and illnesses that disproportionately affect our aging population. VGTI Florida is a non-profit 501 (c) 3 organization located in the Tradition Center of Innovation in Port St. Lucie, Florida. For more information, visit http://www.VGTIFL.org.
###