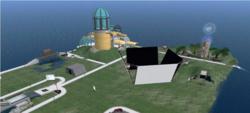 GameTech highlights the rapid changes in gaming, mobile applications and virtual world technologies.
Orlando, FL (PRWEB) February 27, 2012
The Nation's top not-for-profit simulation organization (National Center for Simulation), along with the leading military, industry and academia collaboration team - Team Orlando, announced today its dynamic program for the upcoming GameTech conference (March 28-30 in Orlando) that focuses on serious games, virtual worlds and mobile apps to help both the military and civilian organizations train, educate, and improve workforce performance through the use of technology. The event brings together not only users, but developers and training leaders to discuss and promote gaming technologies for good, and also includes the award announcement of the prestigious Defense Federal Virtual World's Challenge.
Over 140 speakers and over 90 tutorial sessions will highlight the best uses and development tools and techniques that result in innovative training and education programs. Michael Jones, Google; and General Edward A. Rice, US Air Force, are just two of the prominent keynote speakers from industry and military.
"This year's conference certainly lives up to GameTech's historical delivery of high-level keynote speakers," stated Brent Smith, 2012 Program Chair. "The local gaming technology experts in our backyard is not only impressive, but an essential piece to the GameTech program."
Early registration is being extended through March 5th for readers of this announcement by using the promo code: GT12PRWEB
"You would be hard-pressed to find another conference offering such a vast array of topics, speakers and networking opportunities," stated Mike Macedonia, GameTech Conference Chair. "The GameTech agenda is carefully crafted each year to support the rapid changes in gaming, mobile application and virtual world technologies. We are looking forward to sharing what we know and continuing to take this conference to new levels."
Check out the agenda and other exciting details on the event website: http://www.gametechconference.com.
About GameTech. GameTech is a unique user-focused conference dealing with gaming technologies that enhance warfighter training. Gaming experts from around the world will discuss the current state of game technologies and its advancement of use within the Department of Defense. Government, industry and academia will gather to share their knowledge, research and technology on virtual worlds and games for training through several dozen unique workshops and stimulating presentations.
GameTech happens at the Caribe Royale Hotel and Convention Center March 28-30, 2012. The event is open to anyone interested in the use of games, virtual worlds, and mobile applications for training and education; and attendees can register through the registration tab on the event website http://www.gametechconference.com
About NCS. The National Center for Simulation is a non-profit regional Trade Association dedicated to providing support to the Central Florida modeling, simulation and training cluster. NCS provides a strong voice and central location to facilitate innovative community partnering to help grow and enhance a critical segment of a diversified Florida economy.
http://www.simulationinformation.com
About Team Orlando. Team Orlando, established by a Department of Defense Inter-Service Charter, builds upon a partnership established between the Army and Navy over 60 years ago. Today, Team Orlando members from Government, academia, and industry are focused on one common goal: To improve human performance through simulation.
http://www.teamorlando.org
###