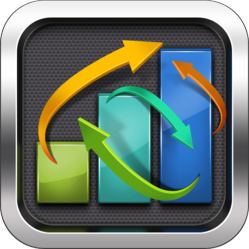 iPad users will now have the ability to explore and build insights from their data visually and intuitively
Santa Clara, CA (PRWEB) February 28, 2012
Today impathic LLC, provider of enterprise database and data analytics apps, announced the release of the Glimpse business intelligence visualization app for the Apple iPad. A new addition to the DataGlass line of mobile data products, Glimpse allows users to transform their Excel, Numbers, or Google spreadsheets into dynamic and interactive visualizations on an iPad. Glimpse's interface enables the iterative exploration of data to spot patterns, trends, and outliers hidden in the data and then present them with a dazzling animated interface. Glimpse is being launched at O'Reilly Media's Strata 2012 Conference in Santa Clara, and it is available worldwide at the Apple iTunes App Store via http://glimpse.io. It will be offered at a heavily discounted price for the duration of the conference.
"Business intelligence in the 21st century has been steadily moving away from reliance on IT departmental report generation and toward self-service, user-driven analytic solutions," said Marc Prud'hommeaux, founder and principal developer of impathic, LLC. "Business users have historically needed to pore over static spreadsheets to create fixed charts and summary reports. iPad users will now have the ability to explore and build insights from their data visually and intuitively."
Glimpse uses state-of-the-art database and in-memory data processing techniques to slice, dice, and aggregate data on a mobile device. Designed from the ground up for the Apple iPad, it is unencumbered by legacy client-server requirements, allowing the data to remain secure and encrypted on the device at all times. This makes it especially suitable for the processing and analysis of sensitive data that should not be transferred over insecure networks and the internet. Glimpse is a completely stand-alone app and does not require the installation of any additional third-party software or registration with an external web site.
Glimpse is able to import spreadsheet data from Microsoft Excel, Apple Numbers, Google Spreadsheets, as well as a variety of other delimited file formats. Some of Glimpse's use cases include:
 • Presentations: Make elegant animated presentations that are perfect for showing data insights in a one-on-on meeting or projecting them to an Apple TV for large-scale presentations.
 • Chart Creation: Use Glimpse's built-in visualization templates to chose from a variety of standard chart displays for your data, including heat maps, pivot tables, stacked bar charts, bubble charts, and scatter matrices.
 • Data Exploration: Experiment with encoding your spreadsheet columns using a variety of visual attributes, including size, shape, color, position, and label.
Glimpse Product Information
iPad users can visit http://glimpse.io for a video demo and download link for the Glimpse Business Intelligence Visualization app. For more information on the rest of the DataGlass family of products, please visit http://www.impathic.com or contact an impathic representative at info@impathic.com or +1.971.259.8176.
About impathic
About impathic: We create enterprise apps exclusively for Apple iOS devices. Our DataGlass Mobile Database Client line of products is used by tens of thousands of enterprise customers around the world to connect directly to their corporate databases, and our new Glimpse business intelligence visualization app enables users to dynamically explore and discover trends in their own spreadsheets. Contact us at sales@impathic.com for information about product customization and white-label opportunities.
###