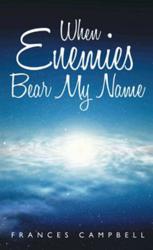 Tyler, TX (PRWEB) February 27, 2012
In her book "The Hiding Place," the Dutch writer Corrie ten Boom wrote "Perhaps only when human effort had done its best and failed, would God's power alone be free to work." It is this sentiment that author Frances Campbell explores in her new autobiography "When Enemies Bear My Name" (published by CrossBooks).
Writing specifically to women who've grieved the loss of their family from divorce and the pain of parental alienation syndrome, Campbell wastes little time: "If your family mistreats and rejects you, get involved in a Bible believing church and develop close relationships with other Christian women," she says. "Get well acquainted with the Bible. Allow the love of Jesus to sustain you and define who you are."
Campbell is no stranger to her topic; having suffered once through the abandonment of her husband and children, she found herself with a choice, as illustrated by this excerpt:
"A couple of years ago, there was a front-page news story in the 'Dallas Morning News' about a prominent lady who found herself on the losing end of a divorce and child custody battle. We both came to the same fork in the road, but that is where our paths diverged. She went one way, and I chose to go 180 degrees in the opposite direction. This beautiful, young, sophisticated lady succumbed to an early death of a slow suicide marked with pills and alcohol.
It has taken me almost 15 years to peel off the dead layers of hurt, resentment, and unforgiveness so I can now write from a vantage point of closure and victory, not victimization."
The genesis of "When Enemies Bear My Name" can be traced from the lack of other works on the subject. "Most Christian books on marriage and parenting give the reader false hope for a rosy ending," Campbell writes. "They do not deal with the harsh reality of severely dysfunctional homes among believers. My book offers hope to those women who are really tempted to give up their faith because they have tried and failed time and again to keep their family intact."
Campbell's dearest hope is that other women who are shattered from the horror of parental alienation will find hope and comfort in their faith. "Forgiveness," she reminds her readers, "will set you free from being an emotional cripple."
CrossBooks, a division of LifeWay Christian Resources of the Southern Baptist Convention, is a Christian publishing imprint committed to bringing more Christian voices into the publishing industry. Established authors, first-time authors, and authors anywhere in between can meet their goals and fulfill their vision for their books by publishing with CrossBooks. CrossBooks' innovative style of publishing blends the best of traditional and self-publishing. While our authors contribute monetarily to cover the cost of publishing, we maintain a strict moral and quality standard that every manuscript must meet for us to publish. For more information on publishing your Christian book with CrossBooks, log on to crossbooks.com or call 1-866-879-0502.
###