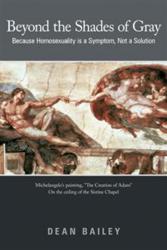 Harker Heights, TX (PRWEB) February 28, 2012
In the article "Prop 8, California's Same-Sex Marriage Ban, Declared Unconstitutional," The Huffington Post reported on recent legislation on gay marriage laws. It is into this debate that author Dean Bailey adds his new book "Beyond the Shades of Gray: Because Homosexuality is a Symptom, Not a Solution" (published by WestBow Press).
"Beyond the Shades of Gray" is based on Bailey's own experiences with homosexual feelings.
"As a man who grew up having come through this inward struggle myself, I can especially identify with you younger men out there, who are now at the point of trying to either deny or to accept those inward passions we've felt, that long so deeply for the love and acceptance of another male, human being. I know that sometimes they can drive you to the point that you feel like a worthless person, while at other times you feel alone and incomplete until you've satisfied them somehow. I also know what it feels like to seem to have no choice or control at all over these passions and emotions—and what it is like to keep them all bottled up inside, as they are fighting to get out. Even in a large crowd of friends, these feelings can often make us feel as though we are all alone… What we long for is a deep and heartfelt sense of brotherhood." – Dean Bailey
What differentiates "Beyond the Shades of Gray" from other books is its genesis. "I experienced homosexual desires and longings and found a real and genuine restoration of my sexuality through the Christian faith, and through genuine Christian companionship," says Bailey. "This is not some 'pray and be free' approach."
About the Author
Dean Bailey was born and raised in San Francisco and remained a Californian until he graduated high school and began his military career. He traveled to many different places across the United States and around the world, including Germany, Belgium, France, Egypt, Israel, South Korea, Saudi Arabia, Kuwait and Iraq. Bailey continues his close ties with the U.S. military and remains a strong and outspoken advocate of the truth concerning homosexual behaviors, speaking out against the Obama Administration's repeal of the Department of Defense "Don't Ask, Don't Tell" policy.
Bailey met his wife while attending their local church in Texas, and she has been a constant source of support, encouragement and inspiration to the author in his life journey. For more information please visit http://www.beyondtheshadesofgray.org.
WestBow Press is a strategic self-publishing alliance of Thomas Nelson, Inc., the world's largest Christian publisher, and Author Solutions, Inc. (ASI) — the world leader in the popular self-publishing industry segment. Through this partnership, authors benefit from the rich publishing heritage of Thomas Nelson and the speed-to-market advantages of the ASI self-publishing model. Titles published through WestBow Press are evaluated for sales potential and considered for publication under the Thomas Nelson imprint. Thomas Nelson, Inc. continues to "inspire the world" with distribution of products in more than 100 countries worldwide. For more information, or to start publishing today, visit http://www.westbowpress.com or call (866)-928-1240. Follow us @westbowpress on Twitter for the latest news.
###