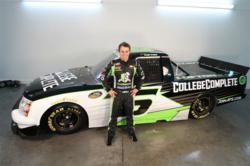 I am so proud of my crew chief Dan Bormann and all of the guys on this No. 6 College Complete Chevrolet team. Dan called a great race tonight with pit strategy, and we had a really good truck
Daytona Beach, Florida (PRWEB) February 25, 2012
Justin Lofton and the No. 6 College Complete ([http://www.collegecomplete.com or call 877-543-2655) Eddie Sharp Racing (ESR) team had high hopes entering the NASCAR Camping World Truck Series (NCWTS) season opener on Friday at the Daytona International Speedway. After an intense race with multiple wrecks and three attempts at a green-white-checkered flag finish, their hopes proved reality after Lofton crossed the line in third at the finish.
"I am so proud of my crew chief Dan Bormann and all of the guys on this No. 6 College Complete Chevrolet team. Dan called a great race tonight with pit strategy, and we had a really good truck," Lofton said. "I was pretty nervous out there. I felt like we weren't going to make it on fuel with all of those cautions, but it all worked out. It feels good to start the season so strong."
Initially, the team wasn't sure what they would have to work with for the race after running less than 30 laps during both practice sessions on Thursday. After discovering a broken shock, the guys repaired Lofton's machine, allowing him to qualify 15th for the NextEra Energy Resources 250 on Friday.
Once the green flag waved on the event, it didn't take long for the California native to find a comfortable spot in the draft as he logged laps around the 2.5-mile superspeedway.
On lap 20, the team made their first pit stop of the night, allowing Bormann to lay the groundwork for the team's strategy by calling for two right side tires and fuel. The team would pit a total of three times throughout the night, taking on fuel only during the other two stops.
Lofton did his part with keeping the track position, as he maneuvered his No. 6 College Complete Chevrolet through the draft like a veteran, maintaining a top-10 drive for the majority of the race.
Following a caution flag, Lofton lined up eighth with 10 laps remaining in the race. However, intense racing and carnage forced the race into three attempts at a green-white-checkered flag finish.
After taking the green for the final time from the fourth position, Lofton jockeyed for position, moving into third at the stripe. The result equaled his career best showing of third, previously scored at Dover during his rookie season in 2010.
Lofton, Bormann, and the rest of the College Complete ESR team will have a few weeks off from competition before the NCWTS schedule resumes at the Martinsville Speedway short track in Martinsville, Virginia.
About Eddie Sharp Racing
Eddie Sharp Racing (TeamESR.com) is a 40,000 square foot championship winning race team based in Denver, NC. After just four short years of competition within the ARCA Racing Series, the team impressively accumulated upwards of 20 race wins. 2009 was a pivotal year for ESR, as they dominated the series with six race wins, 15 top-fives and 19 top-10s en route to the series championship with driver Justin Lofton. In 2010, ESR made the transition to the NASCAR Camping World Truck Series. In 2011, owner Sharp and Lofton were reunited within truck competition. In 2012, ESR will expand to three teams, with Lofton set to return to the No. 6 CollegeComplete.com Chevrolet Silverado, Cale Gale set to join the team behind the wheel of the No. 33 Rheem Chevrolet Silverado, and Mike Skinner in the No. 8 Chevrolet Silverado.
About College Complete
Partnered with hundreds of educational institutions and across all types of education goals, including traditional college degrees, trade and vocational certifications, and professional licensure, College Complete helps students assess all of the information that exists in the public domain, allowing them to understand and make sense of their educational opportunities. Their services are free and available to anyone. Whether you are interested in Art and Design, Business, Computers and Technology, Criminal Justice, Education, Healthcare and Medical, Science and Engineering, and much, much more; if you're an Electrician, a Nurse, an Automotive Mechanic, a Teacher, a Police Officer, or you're simply interested in learning Computer Programming, Networking, Web Development, or Graphic Design College Complete is available for you at no cost. You can reach them by filling out a form on their site or calling to speak with your personal Education Advocate at 877-543-2655. College Complete has an initiative to assist those in the US Armed Forces and their families and is able to assist in identifying schools that will not only provide the educational requirements of the soldier, veteran or family member but will do so in a cost effective manner.
###