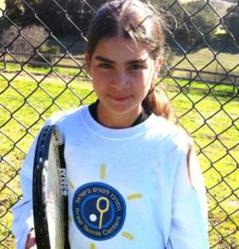 I pray every day that peace will come and my family will be safe.
New York City, NY (PRWEB) February 27, 2012
Ten year old Israeli, Rachel Pashaev, lives just eight miles away from the Gaza strip, where she and the entire community endure surprise missile attacks almost on a daily basis. What does tennis have to do with bringing some sense of normalcy to her young life? In truth, almost everything.
Rachel has just arrived in the United States to participate in a series of exhibition tennis matches in order to raise funds for the Israel Tennis Centers Foundation. This was her first time on an airplane and her first time traveling outside of Israel. Rachel is the first player from her community of Sderot, Israel, to travel abroad and represent the Tennis Centers' during fundraising exhibition matches in both Florida and California.
Rachel started playing tennis when she was four years old after her family emigrated from Russia. Today she is ranked in the top 10 in the national girls ranking, ages 10 and under, while being ranked number 1 in the South of Israel.
Rachel loves tennis, she says: "Tennis brings calmness to my life and that gives my family a sense that everything is normal even though we are constantly worried about bombings and are always listening for the warning sirens." Her town has been continually harassed by missiles and rockets over the past nine years and very often right in the middle of tennis practice. Rachel observes: "We need to find shelter very quickly to escape the rocket attacks when that happens." From a psychological perspective Rachel noted: "My life so far has been filled with fear, anxiety and stress, especially when I am out of the house. I pray every day that peace will come and my family will be safe". The Israel Tennis Center in Ashkelon has become a place of refuge for Rachel. She says: "Coming to the Tennis Center helps because it allows me to maintain a daily routine and to feel safe. Living in Sderot, even the most basic things such as playing outside with your friends can be dangerous".
Rachel works hard at her tennis despite the difficulties that she faces in life. She always keeps her positive attitude and her beautiful smile while maintaining focus on her tennis and her friends as opposed to the security threats she faces. Rachel's father, Vladislav, who encouraged her to start playing tennis, says: "Tennis has been such a wonderful influence on her. She has become more responsible and it has had a positive effect on Rachel's grades in school as well. Her travels abroad will give her a break from the difficult situations she faces at home".
Rachel is able to play tennis thanks to a scholarship from the Israel Tennis Centers Foundation, which was made possible by scholarship donations. There are over 13,000 children at risk who are in a similar situation as Rachel and thanks to the financial help they receive, they are able to participate in tennis and other fitness programs in Tennis Centers around the country. Through a network of holistic social programs that teach discipline and self-control, improve self-confidence and provide community role models, the Israel Tennis Centers are able to help children at risk mature into independent and responsible adults.
The Israel Tennis Centers Foundation (ITC) is a 501 (c) 3 non profit organization that has worked for over 35 years to enhance the social, psychological, and physical development of Israeli youth through the medium of sport. Most of ITC Centers are located in disadvantaged neighborhoods or outlying development towns throughout Israel, from Kiryat Shmona on the Lebanese border in the North to Beer Sheva bordering the Negev Desert in the South.
Contact
David W. Lippy
(614) 939-1533
DLippy(at)Insight(dot)rr(dot)com
# # #