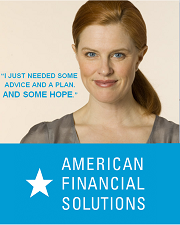 There are two timelines to be aware of when dealing with debt collections; how long it remains on the credit report and how long a creditor can sue to collect it.
Seattle, WA (PRWEB) February 27, 2012
According to an article posted on InsideArm, a news source for accounts receivable management businesses, debt collection agencies are suffering financially (Lunsford, 2012). This is due to having to reduce the rates they charge other businesses to collect debts on their behalf. But for consumers turning to American Financial Solutions for help with bills, this latest news does not garner much sympathy.
"We are seeing and talking to many people who already dealing with reduced wages and an increased cost of living. Diverting money out of their monthly budget for collections is not feasible," said Becky House, Education Director for American Financial Solutions. "People are being told they cannot make smaller affordable payments and, in many cases the collection agency is demanding payment in full over the phone."
According to House, the loss of net income to debt collection agencies may be partly to blame for the increase in the number of demands consumers are receiving on old, outdated and sometimes even false debt. Rules about how long a business has to collect on a debt vary from state to state, but there are ways consumers can educate and protect themselves.
First, there are two timelines to be aware of when dealing with debt collections. These are how long an item can remain on a credit report and how long a creditor has to take legal action in order to force someone to pay.
Debt reporting on a credit report
Information may remain on a credit report for seven years from the date of the last activity. The date of the last activity is generally the last time a payment was made on the account. The seven year clock begins ticking six months after that, provided no more payments were made.
How long a debt can be collected
The time a creditor has to sue someone over a debt varies according to the state in which they reside. If a creditor or collection agency successfully sues over the debt, they can force a consumer to pay by garnishing (taking) wages and even freezing bank accounts. To find out the time limits in your state, contact the state Attorney General's Office.
Restarting the credit report or debt collection time frame
Collectors can contact someone about a debt that is expired (or too old for legal action), but they cannot use the legal system to force repayment. It is critical to be aware of the creditor or collection agencies limitations when discussing debts. In some states, making one partial payment may restart the clock and allow the collection agency to take legal action or continue to report an item on a credit report.
When an account is sold or turned over to another business to collect, the time frames for remaining on the credit report or for legal action do not change.
The Fair Debt Collection Practices Act was created to help protect consumers from unfair, deceptive or abusive acts by debt collectors. Reviewing this law can help consumers understand steps to take when dealing with a debt collector.
If someone is having difficulty repaying debts, considering debt consolidation of collection accounts or having difficulty with a debt collection agency they should contact a non-profit credit counseling agency. Certified credit counselors can help develop debt repayment options and strategies. They can also provide best practices when dealing with debt collectors.
Remember, when managing finances, understanding options can save people time, money and stress.
American Financial Solutions (AFS) is a non-profit 501(c)3 financial education and credit counseling agency that helps people find solutions for managing their money and improving their financial lives. Since 1999, AFS has helped individuals across the United States through one-on-one counseling, classes and the use of debt management plans. AFS is a member of the National Foundation for Credit Counseling (NFCC) as well as the Association for Independent Consumer Credit Counseling Agencies (AICCCA). AFS is also accredited by the Council on Accreditation (COA) and has an A+ rating by the Better Business Bureau. Find us and add us on Facebook, Twitter and Google+ .
Lunsford, Patrick. (2012, February 23). The myth of the debt collection boom. InsideArm. Retrieved from forbes.com/sites/insidearm/2012/02/23/the-myth-of-the-debt-collection-boom