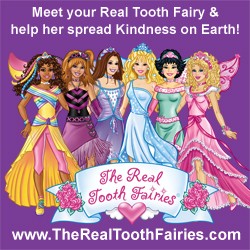 The Real Tooth Fairies are positive role models with a focus on goal-setting, and spreading kindness.
(PRWEB) February 27, 2012
February 28th is National Tooth Fairy Day and The Real Tooth Fairies are celebrating with a magical reveal to Earthies. With breaking news that the whole world is talking about, the Queen of Real Fairyland is seen on earth in a video at the US Capitol. Actual footage can be seen at http://youtu.be/8LyauO44c7o. It's clear these are the official and the real Tooth Fairies and their website - http://www.therealtoothfairies.com/home - is a rich online world filled with imaginative, interactive fun for girls ages 6-10. Queen Sirona is now welcoming Earthie visitors to visit Real Fairyland with magical adventures, free gifts, and award –winning products for "everything Tooth Fairy."
To start the magic, girls 6-10 years-old take the Royal Quiz and get matched to the Tooth Fairy and meet her – all for free. How it works is simple. A girl goes online to http://www.therealtoothfairies.com/registration - with her parent's permission – and gets matched to her tooth fairy during the Royal Quiz that asks about the girl's interests. This match-up begins a magical friendship between a girl and her Tooth Fairy where the two write back and forth like best friends sharing all of a growing girl's day to day experiences – her proud moments and her heartaches. Topics a girl can write about include: proud of a new activity, a good day at school or sports, a hard time, making friends, or even losing a tooth. Then the Tooth Fairy writes back with a magic letter on the girl's pillow.
"The Real Tooth Fairies are positive role models with a focus on goal-setting, and spreading kindness – which is so important amidst parent concerns that we send anti-bullying messages to children of all ages," says Marilyn Bollinger, President of TheRealToothFairies.com. Her background is in child and family therapy as well as product development for Disney, LeapFrog, and Fisher-Price.
While girls love exploring all the attractions within Real Fairyland like playing magical games and doing fairy activities, the Real Tooth Fairies keep their focus on a special mission - to inspire girls to be heroes for kindness and help the tooth fairies change the world. The award-winning kindness program, Every Kindness Counts, motivates girls to do several kindnesses a week in their families and with friends. There's a scoreboard on the site, which shows the Earth score for the day, as each kindness a girl does changes the score. "Earthie girls are picking gazillions of Kindness Tickets with their tooth fairy and doing the kindnesses in their families," says Bollinger. "Will kindness win today? It's up to the girls to share their Glow and make that happen!"
From the pool of Earthie girls who are members of the tooth fairy website, one lucky family a day from February 27th to March 3 will win the royal gift of a five-minute phone call from Real Fairyland's Queen Sirona. The Earth family can ask her questions and share news about their girl to tell her tooth fairy.
The National Tooth Fairy Day Celebration also includes 25% off the award-winning Tooth Fairy Books, Kindness Kits, and Tooth Fairy Fashions - all shipping from the Magic Street Shops of Real Fairyland.
With over 40 tooth fairy settings and content that builds character and confidence, http://www.therealtoothfairies.com/home is a top favorite place for girls to "grow and Glow" with their Real Tooth Fairies. "Our site embraces the meaning of a happy, imaginative childhood," says Bollinger, "Parents tell us it is the one site where they feel safe having their girl spend hours because they know it's wholesome and positive." Teachers praise the content and even use computer time on the site as a reward in school when kids complete their work.
Since the Tooth Fairies also care about teeth, they have joined with some of the kindest dentists on Earth, who are Official Real Tooth Fairy Dentists. Families magically link to these dentist sites so girls can have the most tooth fairy fun at every dental visit.
Engaging stories, silly spells, virtual shopping and customized decorating, make-overs and fashion, sports, and dream-building activities all entertain while helping a girl celebrate who she is with her own unique talents and goals. Girls develop imagination, literacy, math skills and get expert guidance in friendship challenges. Most importantly, a girl gets to know her Tooth Fairy and have a magical best friend who loves her and celebrates her.
Parents are raving about the site because they play an active part in helping that girl's fairy with Tooth Fairy letters and surprises. The entire "tooth fairy solution" is right on the site in the Parents Only Zone, and it's all one stop. Parents praise the brand's positive values, the focus on kindness and family togetherness, and the 20 Lost Tooth Virtues. The Real Tooth Fairies are a mom or dad's partner as well as the girl's magical best friend in reinforcing the important message to a girl that she is one in a million and a true gift to our world.
About The Real Tooth Fairies
The Real Tooth Fairies are represented to Earthies by the Royal Council of the Real Fairyland, LLC, an entertainment company dedicated to the production of excellence in programming and interactive media, tied to consumer products that inspire imagination, foster creativity, and encourage children to spread kindness and change the world. The Real Tooth Fairies focus on character-building through positive role models, the 20 Lost Tooth Virtues, and Every Kindness Counts. In addition, a school kindness program involves students in a 4-week program wherein kids are heroes for kindness in their family, school, and community while supporting a global charity.
Marilyn Bollinger, president of The Real Tooth Fairies, is the author of 30 Disney books and has consulted for LeapFrog, Fisher-Price and other top children's companies. As a licensed clinical social worker, she practices family and children's therapy and is leader of parenting workshops. And of course, she's honored to be the Earth's ambassador to all things Real Fairyland, where Love is Magic and Every Kindness Counts.
For more information on the Real Tooth Fairies, please contact: Rachel Frankel at 1.888.Yr Fairy or email rfrankel(at)TheRealToothFairies(dot)com.
Learn about the Real Tooth Fairies at http://www.TheRealToothFairies.com/guest-services/about-us. Get Matched to your Tooth Fairy at http://www.TheRealToothFairies.com/registration.
Girls can ask their Tooth Fairy for personalized letters at http://www.TheRealToothFairies.com/ask-magic-letters. Shop at The Real Tooth Fairies Magic Street Shops at https://Shop.therealtoothfairies.com. For a Guide & Gift for parents of a Free Personalized Tooth Fairy Letter go to http://www.ToothFairyForParents.com. To start spreading kindness in your family now to http://www.therealtoothfairies.com/kindness. This is the only place on Earthie parents can buy Kindness Kits: http://www.shop.therealtoothfairies.com/index.php?p=catalog&parent=32&pg=1 Watch the video of Queen Sirona's arrival at http://youtu.be/8LyauO44c7o.
###