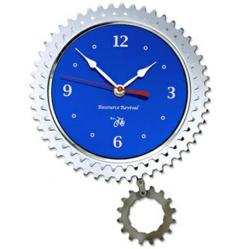 Houston, Texas (PRWEB) February 25, 2012
One Stop Green, LLC is proud to announce a new partnership with Mosier, Oregon based Resource Revival.
Resource Revival creates fun, functional products from recycled bicycle parts. They receive used bicycle parts from shops all over the country and turn these greasy parts into new products in a process they call "Rebicycling."
One Stop Green applauds Resource Revival's innovative use of used, unwanted parts and their creativity in the products they produce. From bottle openers to clocks to picture frames, Resource Revival's product line covers many unique home accents that are interesting conversation pieces.
One Stop Green now carries Resource Revival Bottle Opener Key Chains in various colors, three unique recycled clocks, a bowl made from a bicycle chain, and desk essentials like bicycle chain frames and a business card holder.
One Stop Green is looking towards a 'greener' future, looking for better ways to improve our impact on the planet. Going 'green' is no longer a choice, it's our responsibility, that's why it's so important to try and do the small things that can help change the outlook of the planet. We believe even the little things like recycling or using less water helps the environment out in a big way, and every little bit helps. That's why our various solutions seek to nurture and edify your home or business in an eco-friendly manner. Contact:
Nathan Kaufman
http://www.OneStopGreen.com
P: 877.449.9110|O: 713.541.2739|C: 210-846-5900
###