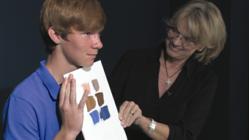 This seminar offers an online peek into my new book to see how artists can learn to mix beautiful, convincing skin tones in oil.
Phoenix, AZ (PRWEB) February 26, 2012
In this free one-hour online event, Saper opens up the pages of her book to give participants a sneak peek into Classic Portrait Painting in Oils, taking the mystery and guesswork out of portrait painting so that artists can achieve success with advice and tips on the following topics:

Keys to working from life
Keys to working from photos
Step-by-step approaches for painting 2 portraits
This PowerPoint slide show, narrrated live, will provide viewers a sneak preview at the instruction found in Chris's Classic Portrait Painting in Oils, and wraps up with a Q&A session where participants have a chance to ask Chris questions.
Participation is free, but registration is required.
Chris Saper is a commissioned portrait artist, teacher and author of books and videos on Painting Skin Tones and Portraits. She has served as a faculty member of the Portrait Society of America, Chris has participated in many classes, panel discussions, critiques and portfolio reviews, and has developed a solid insight on how to help artists successfully see and paint skin tones.
###