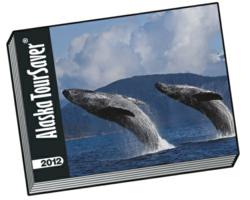 the best travel experiences throughout Alaska. You'll find them all in the Alaska TourSaver. And they're all 2-for-1.
Anchorage, AK (PRWEB) February 28, 2012
Ask any traveler to design the perfect Alaska getaway. There's usually a remote wilderness adventure involved--sometimes in a National Park! This year's Alaska TourSaver® has a handful of such advenures--and they are all 2-for-1.
a. Glacier Bay National Park. This awesome national park is just 60 miles from Juneau--but it's a world away. Fly with Wings of Alaska to Gustavus. Stay at the Glacier Bay Lodge inside the national park. And take a full-day cruise deep into the park. "When we sailed, we saw bears, whales, sea lions, seals and big, big ice!" said travel writer and publisher Scott McMurren. This is a spectacular three-day, two-night adventure. And it's two-for-one, only with the Alaska TourSaver.
b. Tenakee Hot Springs. This little getaway is a well-kept secret. Just 45 miles from Juneau on Chichagof Island, it's a tranquil community of about 100 people. Take advantage of the natural hot springs. Take a hike. Go fishing. Take pictures. Relax! Fly with Alaska Seaplanes from Juneau. Stay at Tenakee Hot Springs Lodge. This tour even includes a 2-for-1 breakfast at Party Time Bakery. The whole package is 2-for-1, only with the Alaska TourSaver.
c. Lake Clark National Park. One of America's most remote national parks is an hour-long flight from Anchorage. Fly with Alaska Alpine Adventures to Port Allsworth and begin a seven-day hiking adventure in the park. Everything is included: meals, accommodations, flight and activities. Check out the company that provides one of the "Top 50 Tours of a Lifetime", according to National Geographic Traveler. And it's all 2-for-1, only with the Alaska TourSaver.
d. Gates of the Arctic National Park. How about remote adventure? Check out the Bettles Lodge--just outside this the park, straddling the Arctic Circle. A three-day/two-night adventure includes the flight from Fairbanks and accommodations at the lodge! Take a boat tour on the Koyukuk River (included). And it's 2-for-1--only with the Alaska TourSaver.
Of course, the fly-out adventures are just one part of the Alaska TourSaver, a handy pocket-sized guide chock full of more than 140 2-for-1 travel deals. Choose from train rides, fishing charters, luxury accommodations, admissions, flightseeing, whale watching--all the great things to do here in Alaska. And the best part: it's ALL 2-for-1. Check out all of the TourSaver Alaska travel deals.
Check out the website for a complete list of 2-for-1 offers: Alaska TourSaver® . With more than $23,000 in 2-for-1 deals, you only have to use one or two coupons to recoup the cost of the book ($99.95). And since the Alaska TourSaver is valid ALL SEASON LONG, take some time to explore "the Last Frontier" from Nome to Dutch Harbor to Kodiak and Ketchikan--and all points in between.
The 2012 edition marks the Alaska TourSaver's 14th year. Whether "just visiting" or a year-round resident, the TourSaver® book is an excellent deal. It's loaded with the best travel experiences throughout Alaska. They are all in the Alaska TourSaver®. And they're all 2-for-1.
###